Into Thin Air: A Personal Account of the Mt. Everest Disaster (CD-Audio)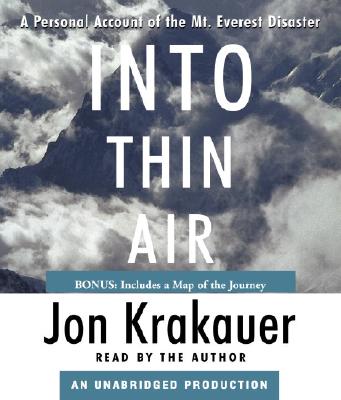 Unavailable, our apologies.
Staff Reviews
---
Krakauer is one of the best adventure/travel writers out there, and those who want to live vicariously through him need to read this book. He details his harrowing climb to the summit of Mount Everest, a trip that becomes deadly for many of his companions. I was so captivated by this story that I (very) momentarily considered climbing Everest...I got over that fleeting desire but still love the book.
— Lauren
Description
---
A bank of clouds was assembling on the not-so-distant horizon, but journalist-mountaineer Jon Krakauer, standing on the summit of Mt. Everest, saw nothing that "suggested that a murderous storm was bearing down." He was wrong. The storm, which claimed five lives and left countless more--including Krakauer's--in guilt-ridden disarray, would also provide the impetus for Into Thin Air, Krakauer's epic account of the May 1996 disaster.
About the Author
---
Jon Krakauer is the author of Eiger Dreams, Into the Wild, Into Thin Air, Under the Banner of Heaven, Where Men Win Glory, Three Cups of Deceit, and Missoula: Rape and the Justice System in a College Town, among others. He is also the editor of the Modern Library Exploration series.
Praise For…
---
"Into Thin Air ranks among the great adventure books of all time . . . a book of rare eloquence and power that could remain relevant for centuries."
--Galen Rowell, The Wall Street Journal


From the Hardcover edition.