Disney's Dream (Blast to the Past #2) (Paperback)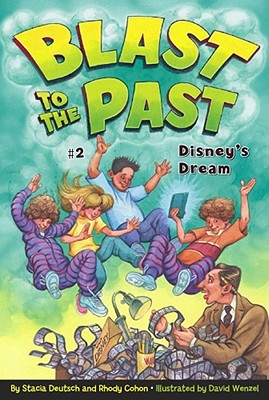 Unavailable, our apologies.
Description
---
A world without cartoons? No way!
It's Monday again, and for Abigail, Jacob, Zack, and Bo, that means it's time-travel Day! This week the kids can't believe their luck: They're going to meet Walt Disney!
But when they jump back to the past, they discover that Mr. Disney wants to quit instead of making the first animated movie with sound. Abigail and her friends can't let that happen: Without his first movie, there wouldn't be all those other awesome Walt Disney movies or a Disney Channel on TV! But how can the kids get Mr. Disney to follow his dream -- and keep their mission top secret?
About the Author
---
Stacia Deutsch is the author of more than fifty children's books, including the eight-book, award-winning chapter book series Blast to the Past. She has also written the tween novel Mean Ghouls as well as books for the Nancy Drew and the Clue Crew and The Boxcar Children series. Stacia has been on the New York Times bestseller list for the novelizations of the Cloudy with a Chance of Meatballs and The Smurfs movies. For new releases and school visit information visit StaciaDeutsch.com.

Rhody Cohon does all the research and editing for the Blast to the Past series. She has a master's degree in computer engineering. Rhody lives with her family in Tuscon, Arizona.