The Death and Life of Great American Cities (Paperback)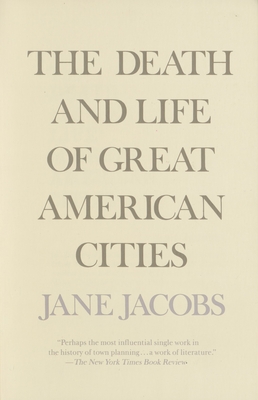 Staff Reviews
---
Writing about present-day urban revitalization projects, George Baird notes that some ideas are "too susceptibly open to co-optation by the contemporary forces of commodification." This applies to the work of pseudo-mythological New York activist Jane Jacobs. Though it's currently the scourge of more leftist urbanist circles, Jacobs' work is not to be associated with its (rightfully hated) misapplications. Her love for the city is so deep as to be religious, and her knowledge of it is the accumulated musings of a lifelong urban monk. Nevermind that a major highway would be tearing through Little Italy a block away if it weren't for her. If you've ever lived in an American city (but especially New York), this book will peel back a layer of mystery you didn't even realize existed, and reveal both the elegant blueprint and the shimmering soul you've always sensed were there. One of the most profoundly impactful books on my life, and an iconic work that goes beyond being a high-water mark for its genre. And now, a good moment to reabsorb the book, as a whole, and heed its revolutionary common sense.
— Gleb
Description
---
A direct and fundamentally optimistic indictment of the short-sightedness and intellectual arrogance that has characterized much of urban planning in this century, The Death and Life of Great American Cities has, since its first publication in 1961, become the standard against which all endeavors in that field are measured. In prose of outstanding immediacy, Jane Jacobs writes about what makes streets safe or unsafe; about what constitutes a neighborhood, and what function it serves within the larger organism of the city; about why some neighborhoods remain impoverished while others regenerate themselves. She writes about the salutary role of funeral parlors and tenement windows, the dangers of too much development money and too little diversity. Compassionate, bracingly indignant, and always keenly detailed, Jane Jacobs's monumental work provides an essential framework for assessing the vitality of all cities.
About the Author
---
Jane Jacobs was the legendary author of The Death and Life of Great American Cities, a work that has never gone out of print and that has transformed the disciplines of urban planning and city architecture. Her other major works include The Economy of Cities, Systems of Survival, The Nature of Economies and Dark Age Ahead. She died in 2006.
Praise For…
---
"The most refreshing, provacative, stimulating and exciting study of this [great problem] which I have seen. It fairly crackles with bright honesty and common sense."—Harrison Salisbury, The New York Times"One of the most remarkable books ever written about the city... a primary work. The research apparatus is not pretentious—it is the eye and the heart—but it has given us a magnificent study of what gives life and spirit to the city."—William H. Whyte, author of The Organization Man