Beneath the Underdog: His World as Composed by Mingus (Paperback)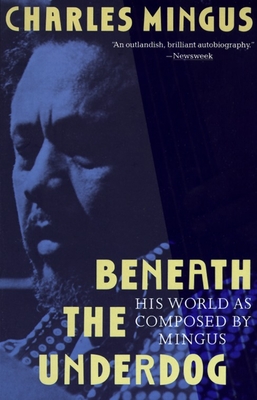 Staff Reviews
---
Whittled down from thousands of pages, this memoir by one of jazz's greatest composers is framed as a conversation with his shrink. Like Mingus's music, it's beautiful, raunchy, and slightly insane.
— Shuja
Description
---
Bass player extraordinaire Charles Mingus, who died in 1979, is one of the essential composers in the history of jazz, and Beneath the Underdog, his celebrated, wild, funny, demonic, anguished, shocking, and profoundly moving memoir, is the greatest autobiography ever written by a jazz musician. 
 
It tells of his God-haunted childhood in Watts during the 1920s and 1930s; his outcast adolescent years; his apprenticeship, not only with jazzmen but also with pimps, hookers, junkies, and hoodlums; and his golden years in New York City with such legendary figures as Duke Ellington, Lionel Hampton, Miles Davis, Charlie Parker, and Dizzy Gillespie.  Here is Mingus in his own words, from shabby roadhouses to fabulous estates, from the psychiatric wards of Bellevue to worlds of mysticism and solitude, but for all his travels never straying too far, always returning to music.
 
"This book is the purest of dynamite.  Like the autobiographies of Jelly Roll Morton, Louis Armstrong and Billie Holiday and like A. B. Spellman's Four Lives in the Bebop Business, it says more about the American psyche in general and black survival in particular than the sociologists and psychologists ever can in their stiff, soulless vocabularies.... Somber, comic, disturbing, boastful, confessional, sentimental, contradictory, poetic, irascible, impish...lyrical, nasty, angelic, reflective...expressionistic, picaresque, jive...this is a powerful book."— Rolling Stone
About the Author
---
At once an essential composer in the history of jazz and a bass player extraordinaire, Charles Mingus was born on April 22, 1922 in Nogales, Arizona, and grew up in the Los Angeles neighborhood of Watts. He made his recording debut with Lionel Hampton in 1947, and performed on numerous recordings with Louis Armstrong, Charlie Parker, Stan Getz, Duke Ellington, Bud Powell, Art Tatum, and many others. His several honors inlcuded a Guggenheim Fellowship, an honorary degree from Brandeis University, and the Slee Chair in Music at the State University of New York in Buffalo.  Charles Mingus died in 1979 at the age of 56.