Sexual Personae: Art & Decadence from Nefertiti to Emily Dickinson (Paperback)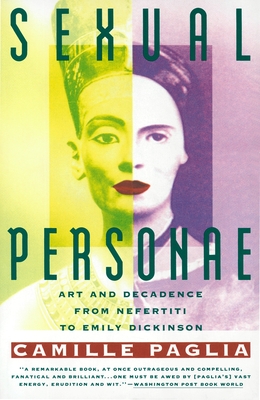 Staff Reviews
---
This lady is as loony as they come and I don't agree with 85% of what her premise is proposing but I couldn't help noticing that the number of brain cells I had before picking it up increased ten-fold after I finished it.
— Musa
Description
---
Here is the fiery, provocative, and unparalleled work of feminist art criticism that launched Camille Paglia's exceptional career as one of our most important public intellectuals. Is Emily Dickinson "the female Sade"? Is Donatello's David a bit of pedophile pornography? What is the secret kinship between Byron and Elvis Presley, between Medusa and Madonna? How do liberals and feminists—as well as conservatives—fatally misread human nature? This audacious and omnivorously learned work of guerrilla scholarship offers nothing less than a unified-field theory of Western culture, high and low, since Egyptians invented beauty—making a persuasive case for all art as a pagan battleground between male and female, form and chaos, civilization and daemonic nature.

47 photographs.
About the Author
---
Camille Paglia is the University Professor of Humanities and Media Studies at the University of the Arts in Philadelphia. A regular contributor to Salon.com, she is the author of Glittering Images; Break, Blow, Burn; Sexual Personae; Sex, Art, and American Culture; and Vamps & Tramps.
Praise For…
---
"A remarkable book, at once outrageous and compelling, fanatical and brilliant. . . . One must be awed by [Paglia's] vast energy, erudition and wit." —The Washington Post

"Sexual Personae [is] an enormous sensation of a book, in all the better senses of 'sensation.' There is no book comparable in scope, stance, design or insight." —Harold Bloom

"The ability to infuriate both antagonists in an ideological struggle is often a sign of a first-rate book. . . . [Paglia] is a conspicuously gifted writer . . . and an admirably close reader with a hard core of common sense." —The New York Times Book Review

"Paglia marshals a vast array of . . . cultural materials with an authorial voice derived from sixties acid-rock lead guitar. . . . Close to poetry." —Greil Marcus, author of Lipstick Traces

"This book is a red comet in a smog-filled sky. . . . Brilliant." —The Nation