Poems and Prophecies (Hardcover)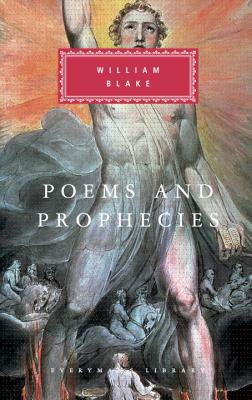 Unavailable, our apologies.
Description
---
This is a selection of the poet's work, including all the great lyrics and the more important prophetic books. In her introduction the poet and critic expounds Blake's esoteric theory and shows how it helped to create a poetry which is unlike any other. The tigers that crouched in Blake's baleful spiritual forests, the roses and sunflowers whose mystical properties he rendered with such accurate music, the angels with whom he wrestled and who delivered prophetic books to him late at night, were literally more real to him than the London, where, in the period of the French Revolution, he lived out his life of poverty and indignant isolation. One of England's great lyric poets; one of Europe's great visionaries. Introduction by Kathleen Raine (Book Jacket Status: Not Jacketed)
About the Author
---
In his prophetic books, William Blake (1757-1827) was a visionary who can be compared without blasphemy to the prophets of the Old Testament. In his life as a citizen of London, he was an unreconstructed revolutionary of the human spirit. And in the poems of Songs of Innocence and of Experience, he was the purest and most penetration lyricist in the language. Among the great English poets, he was and remains the one unclassifiable original.