The Crucible of Islam (Paperback)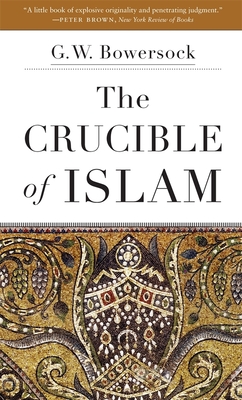 List Price: $16.95
Our Price: $12.95
(Save: $4.00 24%)
Description
---
Little is known about Arabia in the sixth century, yet from this distant time and place emerged a faith and an empire that stretched from the Iberian peninsula to India. Today, Muslims account for nearly a quarter of the global population. A renowned classicist, G. W. Bowersock seeks to illuminate this obscure and dynamic period in the history of Islam--exploring why arid Arabia proved to be such fertile ground for Muhammad's prophetic message, and why that message spread so quickly to the wider world. The Crucible of Islam offers a compelling explanation of how one of the world's great religions took shape.
"A remarkable work of scholarship."
--
Wall Street Journal
"A little book of explosive originality and penetrating judgment... The joy of reading this account of the background and emergence of early Islam is the knowledge that Bowersock has built it from solid stones... A masterpiece of the historian's craft."
--Peter Brown,
New York Review of Books