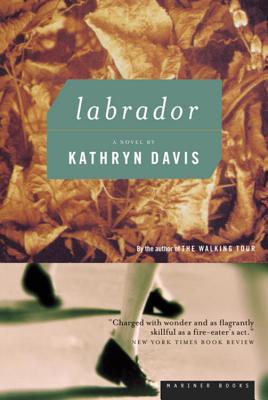 $14.95
Email or call for price.
Description
---
A New York Times Notable Book and the winner of the Janet Heidinger Kafka Prize for Fiction, Kathryn Davis's "dazzling first novel" (Kirkus Reviews) "transforms a literary commonplace -- a young girl's transition from childhood to adulthood -- into a brilliantly original story" (Belles Lettres). In LABRADOR, Davis conjures two unforgettable sisters. Willie, the elder, is beautiful and wayward. Kitty, the younger, is a loner whose only means of escaping the bewitching influence of her sister is to follow her grandfather to his home in Labrador, where she cannot avoid confronting the demons that haunt her.
A tale of two sisters and the ambiguous, sometimes destructive ties that bind them, LABRADOR is a tender meditation on love, its joys, its limitations, and its hidden bitterness.
Praise For…
---
Kathryn Davis's "dazzling first novel" (KIRKUS REVIEWS) "transforms a literary commonplace — a young girl's transition from childhood to adulthood — into a brilliantly original story" (BELLES LETTRES). In LABRADOR, Davis conjures two unforgettable sisters. Willie, the elder, is beautiful and wayward. Kitty, the younger, is a loner whose only means of escaping the bewitching influence of her sister is to follow her grandfather to his home in Labrador, where she cannot avoid confronting the demons that haunt her. A tale of two siblings and the ambiguous, sometimes destructive ties that bind them, LABRADOR is a brooding meditation on love, its joys, its limitations, and its hidden bitterness.

The New York Times

"Charged with wonder and as flagrantly skillful as a fire-eater's act." The New York Times