Invisible Frontier: Exploring the Tunnels, Ruins, and Rooftops of Hidden New York (Paperback)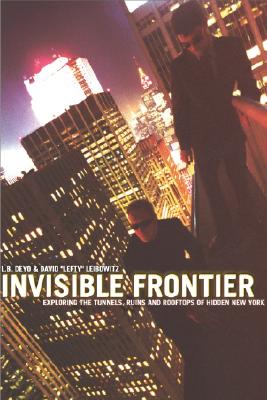 Unavailable, our apologies.
Sorry, We Can Not Obtain this Book at This Time
Description
---
In the shadows of the city waits an invisible frontier a wilderness thriving in the deep places, woven through dead storm drains and live subway tunnels, coursing over third rails. This frontier waits in the walls of abandoned tenements, hides on the rooftops, infiltrates the bridges steel. It's a no-man s-land, fenced off with razor wire, marked by warning signs, persisting in shadow, hidden everywhere as a parallel dimension. Crowds hurry through the bright streets, insulated by pavement, never reflecting that beneath their feet or above their heads lurks a universe.
Led by its two founding agents, L. B. Deyo and David Lefty Leibowitz, Jinx is a stylish urban adventure out't known for its daring if sometimes ridiculous forays into the hidden wonders that lurk above and beneath America's greatest city, New York. In Invisible Frontier L. B. and Lefty chronicle Jinx's dramatic if sometimes absurd exploration of a Dante-esque New York, from the depths of the city's underground Hell (abandoned aqueducts and subway tunnels) to the pinnacles of its Paradise (rooftops and bridges) and everything in between, capturing the genius of the city's engineering, the vibrancy of its found art, and the elegiac beauty of its ruins. Here is a true series of wittily narrated adventures into the hidden world beneath a great civilization.
About the Author
---
L. B. Deyo and David Lefty Leibowitz are the founders of "Jinx: The Magazine of Global Urban Adventure "(www.jinxmagazine.com). They live in New York City."