This Searing Light, the Sun and Everything Else: Joy Division: The Oral History (Hardcover)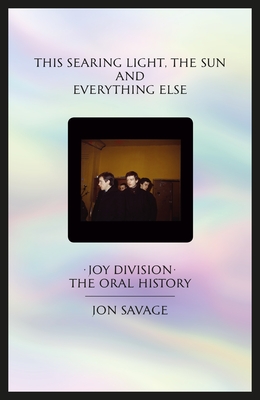 Staff Reviews
---
Three guys from a suburb of Manchester went to a Sex Pistols show and decided to form a band. They found a drummer, and proceeded to make music so great and intriguing that it's still talked about 40 years later in hypnotized tones. So much has been written about Joy Division, of their importance, of their mythology, that another book on them might seem almost pointless. However Jon Savage manages to make something that truly feels worthy of the band, while also free of the chains of mystique that have shackled other works. This is the Joy Division story, fleshed out by the fans, friends, and loved ones that were there to witness their rise to greatness and their sudden, tragic collapse.
— David
Description
---
An exciting new book on Joy Division, featuring never before told stories. NamedLA Times Buzz-worthy Books to Look Forward To. Jon Savage's oral history of Joy Division is the last word on the band that ended with the suicide of Ian Curtis in Macclesfield on 18 May, 1980. It weaves together interviews conducted by the author, but never used in the making of the film Joy Division (2007) which told the story of the band in their own words, as well as those of their peers, collaborators, and contemporaries. Here are 15 or so vivid witnesses to the band's genesis, meteoric rise, and tragic demise, including Peter Hook, Bernard Sumner, Annike Honore, Deborah Curtis, Paul Morley, Tony Wilson, Rob Gretton, Martin Hannet ... It is the story of young men driven to create and cause rock n' roll havoc inspired by literature, radical ideas, and the wasteland that was post-industrial Manchester in the late 70s. It is as intense and funny and alive on the page as only an oral history can be, recalling masterpieces like Edie by Jean Stein and Meet me in the Bathroom by Lizzy Goodman. It is essential reading.
About the Author
---
Jon Savage is the author of the bestselling book 1966, England's Dreaming: Sex pistols and Punk Rock and Teenage: The Creation of Youth, 1875-1945. He has written sleeve notes for Wire, St. Etienne, and the Pet Shop Boys, among others, and his compilations include: Meridian 1970 (Heavenly/EMI 2005); Queer Noises: From the Closet to the Charts 1961-1976 (Trikont 2006); and Dreams Come True: Classic Electro 1982-87 (Domino 2008).