The Three Stigmata of Palmer Eldritch (Paperback)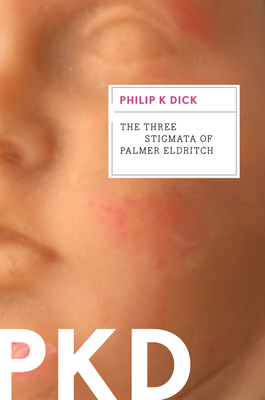 Staff Reviews
---
A surreal satire of consumer culture, corporate intrigue, and substance abuse. Forced to abandon an overheated earth, Martian colonists living in sparse conditions take drugs and hallucinate lives of luxury while playing with toys. When Palmer Eldritch arrives with a strong alien hallucinogen that could put the drug and toy manufacturers out of business, his rivals race to stop him. Includes an extended sequence midway through that's the closest reading has ever come to making me feel like I was actually on drugs.
— Jacob S.
Description
---
"A psychedelic odyssey of hallucinations-within-hallucinations from which no reader emerges unscathed."—Boston Globe

On Mars, the harsh climate could make any colonist turn to drugs to escape a dead-end existence. Especially when the drug is Can-D, which translates its users into the idyllic world of a Barbie-esque character named Perky Pat. When the mysterious Palmer Eldritch arrives with a new drug called Chew-Z, he offers a more addictive experience, one that might bring the user closer to God. But in a world where everyone is tripping, no promises can be taken at face value.
This Nebula Award nominee is one of Philip K. Dick's enduring classics, at once a deep character study, a dark mystery, and a tightrope walk along the edge of reality and illusion.

About the Author
---
Over a writing career that spanned three decades, PHILIP K. DICK (1928–1982) published 36 science fiction novels and 121 short stories in which he explored the essence of what makes man human and the dangers of centralized power. Toward the end of his life, his work turned to deeply personal, metaphysical questions concerning the nature of God. Eleven novels and short stories have been adapted to film, notably Blade Runner (based on Do Androids Dream of Electric Sheep?), Total Recall,Minority Report, and A Scanner Darkly. The recipient of critical acclaim and numerous awards throughout his career, Dick was inducted into the Science Fiction Hall of Fame in 2005, and in 2007 the Library of America published a selection of his novels in three volumes. His work has been translated into more than twenty-five languages.