The Little Prince Graphic Novel (Hardcover)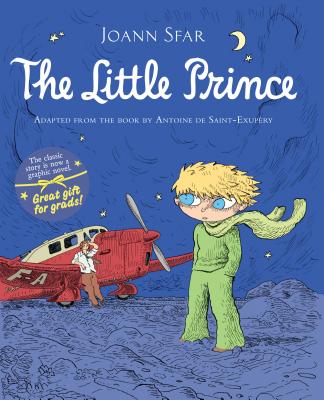 Description
---
Saint-Exupéry's The Little Prince has earned millions of fans worldwide as an imaginative, dreamy study of the meaning of life. How horrible to be a grown-up—they all seem to be needy, lonely, vain, or power-hungry. All the Little Prince cares about is being useful to the flower he's left behind on his very small planet, with only a few thorns to protect her from the world. Sfar's comic-book illustrations of the wide-eyed boy prince and disheveled pilot he encounters in the African desert are edgier than the original watercolors...and his style and humor work modern magic.  An inspiring gift to longtime fans or newcomers! 
About the Author
---
ANTOINE DE SAINT-EXUPÉRY, the "Winged Poet," was born in Lyon, France, in 1900. A pilot at twenty-six, he was a pioneer of commercial aviation and flew in the Spanish Civil War and World War II. His writings include The Little Prince, Wind, Sand and Stars, Night Flight, Southern Mail, and Airman's Odyssey. In 1944, while flying a reconnaissance mission for his French air squadron, he disappeared over the Mediterranean.
 

Joann Sfar is a French comic artist and author of The Rabbi's Cat, Little Vampire Goes to School (a New York Times best-seller), and the Eisner Award–winning Little Vampire Does Kung Fu! He was awarded the Rene Goscinny Award for young comics in 1998 and has continued to garner international critical praise. He was nominated for a 2007 Ignatz Award for Best Series. His original French edition of The Little Prince graphic novel was released in 2007.
Praise For…
---
"There is always the question of whether this story is best suited for children or adults, but legions of admirers prove that it sits in the rarified air of literature that works both ways. A worthy tribute that's most worthy of its own share of applause."--Booklist, starred review

Le Petit Prince Graphic Novel, French Edition "This life-long artist has chosen a simple layout to focus on the adventures of these two characters who share the dreams of millions of kids. Sfar keeps our childish dreams intact." Ca Se Passe Comme Ca  "Always prolific, always generous, always sensitive, Sfar has succeeded in giving life to the aviator and his Petit Prince. Any successful adaptation is a revelation. This is faithful to the text, but the aesthetics of Sfar…reveal the full dimension of melancholy and contemplation [in the story]. Sfar joins [Saint-Exupe´ry]… 'a thousand miles from any human habitation'… where only children can venture." Lire Magazine
 The Little Prince "A lovely story...which covers a poetic, yearning philosophy—not the sort of fable that can be tacked down neatly at its four corners but rather reflections on what are real matters of consequence." —The New York Times Book Review The Little Prince (1993) "An edition of Saint-Exupéry's most famous work -- a gentle fable of love and peace -- contains a thoughtful assessment of the details of its composition...[T]he special allure of the work is still the naively sophisticated, heartwarming tale of the little prince and his small planet." —Horn Book The Little Prince (2000 hardcover edition) "This new translation into 'modern' English brings a classic tale into sharper focus for today's teens without sacrificing the beauty and simplicity of the author's writing, and the 'restored' artwork has all the charm of the original drawings. What appears to be a simple tale of two lost souls-one, a pilot marooned in the desert next to his ditched plane; the other, a minuscule prince in self-imposed exile from an asteroid so small that he can watch the sunset 44 times a day-reveals itself as something far more complex. What appears to be a fairy tale for children opens like the petals of the Little Prince's flower into a fantasy that has lessons for all of us." —School Library Journal The Little Prince: Sixtieth-Anniversary Gift Edition "Always welcome is that charming visitor from another planet, Antoine de Saint-Exupery's The Little Prince...The fable remains as lyrically haunting as ever." —Publishers Weekly