With the Might of Angels (Dear America) (CD-Audio)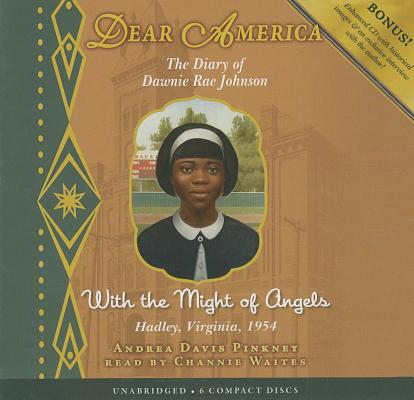 Unavailable, our apologies.
Sorry, We Can Not Obtain this Book at This Time
Description
---
Coretta Scott King winner Andrea Davis Pinkney brings her talents to a brand-new Dear America diary about the Civil Rights Movement.
NARRATOR: TBA
FORMAT: 4 CDs, Unabridged

In the fall of 1955, twelve-year-old Dawn Rae Johnson's life turns upside down. After the Supreme Court ruling in Brown v. Board of Education, Dawnie learns she will be attending a previously all-white school. She's the only one of her friends to go to this new school and to leave the comfort of all that is familiar to face great uncertainty in the school year ahead.

However, not everyone supports integration and much of the town is outraged at the decision. Dawnie must endure the harsh realities of racism firsthand, while continuing to work hard to get a good education and prove she deserves the opportunity. But the backlash against Dawnie's attendance of an all-white school is more than she's prepared for.
About the Author
---
Andrea Davis Pinkney and Brian Pinkney have made an outstanding contribution to the field of children's literature both as individuals and as a team. Between them, they have published more than 70 children's books that have received the highest awards and accolades, including Caldecott Honors, Coretta Scott King Honors, NAACP Image Award nominations, and the May Hill Arbuthnot Honor Lecture Award, to name a few. To learn more, please visit andreadavispinkney.com and brianpinkney.net.