The Broken Lands (Paperback)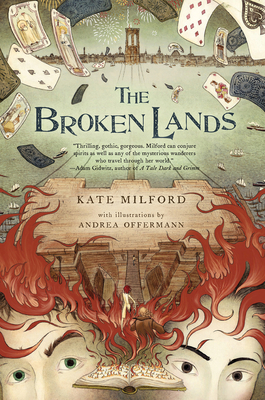 Staff Reviews
---
A young card sharp hooks up with an orphan girl who plays with fireworks to defeat the evil forces that threaten 19th-century New York City. There is so much to talk about here, I could write a whole book about it. If Kate Milford hadn't already beaten me to it.
— Sarah G.
Brooklyn, 1877. A man who once beat the Devil has settled on New York as the place to start his own personal hell, and it will fall to a young card sharp and a young fireworks maker to save both cities. With alchemy, folklore, and a fair dose of carnage.
— McNally Jackson Kids
Description
---
A crossroads can be a place of great power. So begins this deliciously spine-tingling prequel to Kate Milford's The Boneshaker, set in the colorful world of nineteenth-century Coney Island and New York City. Few crossroads compare to the one being formed by the Brooklyn Bridge and the East River, and as the bridge's construction progresses, forces of unimaginable evil seek to bend that power to their advantage. Only two orphans with unusual skills stand in their way. Can the teenagers Sam, a card sharp, and Jin, a fireworks expert, stop them before it's too late? Here is a richly textured, slow-burning thriller about friendship, courage, and the age-old fight between good and evil.
About the Author
---
Kate Milford is the New York Times best-selling author of the Edgar Award–winning, National Book Award nominee Greenglass House, as well as Ghosts of Greenglass House, Bluecrowne, The Thief Knot, and many more. She lives with her family in Brooklyn, New York. www.greenglasshousebooks.com and www.katemilfordwritesbooks.com,
Twitter: @KateMilford
Andrea Offermann
 attended the Art Center College of Design in Pasadena, California, and lives in Hamburg, Germany. Her illustrations for
The Boneshaker
marked her U.S. publishing debut. To find out more about Andrea and her work, please visit
www.andreaoffermann.com
.
Praise For…
---
"This seamless blend of fantasy and historical fiction is ripe with rich, gritty detail . . . Readers will be captivated."
—Kirkus

* "A true delight to fans of history, fantasy, and the triumph of good."
—Bulletin, starred review

"This spine-tingling, action-packed, and emotionally powerful prequel to The Boneshaker (Clarion, 2010) can stand on its own and has much to offer discerning readers."
—School Library Journal

"Thrilling, gothic, gorgeous. Milford can conjure spirits as well as any of the mysterious wanderers who travel through her world."
—Adam Gidwitz, author of A Tale Dark and Grimm

"A glimpse into a past that feels frighteningly real, The Broken Lands explodes off the page with unforgettable moments of skin-crawling terror and heart-stopping bravery. It thrilled me, enchanted me, terrified me, and by the end, made me fall in love."
—Robin Wasserman, author of The Book of Blood and Shadow

"The Broken Lands weaves hobo and drifter legends, post-Civil War Americana, and Coney Island's tawdry history into a desperately romantic, can't-put-it-down scary tale of young love and ancient magic. A superb second novel, rich, complex, and beautifully written."
—Chris Moriarty, author of The Inquisitor's Apprentice

"If Milford's The Boneshaker was a combination of Ray Bradbury and American folk legends, its prequel must be what you get when fairy tales meet E.L. Doctorow."
—Elizabeth Bird, Youth Materials Collections Specialist, The New York Public Library

"This book held me hostage for the majority of time I was reading it; it was impossible to put it down. The Broken Lands was one of the best books I have ever read."
—Kyle, grade 6