Oksana, Behave!: A Novel (Hardcover)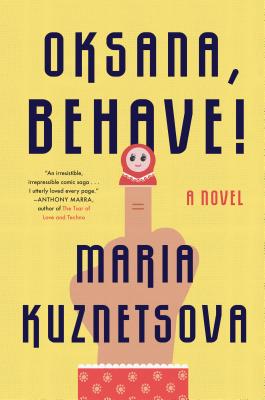 Unavailable, our apologies.
Description
---
"[The] Ukrainian American heroine of this sweet-bitter debut is a wisecracking fatalist who can be counted on to say the inappropriate thing, a tendency that becomes more pronounced as doomed crushes and family crises pile up on the road to adulthood."—O: The Oprah Magazine
 
When Oksana and her family move from the Ukraine to Florida to begin a new American life, her physicist father delivers pizza at night to make ends meet, her cranky mother sits at home all day worrying, and her flamboyant grandmother relishes the attention she gets from men. All Oksana wants is to be as far away from her family as possible, to have friends, and to be normal—and though she constantly tries to do the right thing, she keeps getting in trouble.
 
As she grows up, she continues to misbehave, from somewhat accidentally maiming the school-bus bully, to stealing the much-coveted key to New York City's Gramercy Park, to falling in love with a married man. After her grandmother moves back to Ukraine, Oksana longs for the motherland that looms large in her imagination but is a country she never really knew.
 
When she visits her grandmother in Yalta and learns about her romantic past, Oksana comes to a new understanding of how to live without causing harm to the people she loves. But will Oksana ever quite learn to behave?

Praise for Oksana, Behave!

"Tragicomic and bittersweet . . . an immigrant's coming-of-age tale done with brio."—Kirkus Reviews

"What luck for readers that Oksana can't behave! Little devil, infinite imbecile, poor futureless child—all the names her displaced, loving family give to her as she crashes and burns and wanders the wilderness of her inheritance, fit perfectly. As outrageous as she is, as funny and as awful as she can be, though, in Oksana, Maria Kuznetsova has also created a character of great passion and depth—of tragedy, even, too—the very sort that populate the stories of Chekhov and Tolstoy, the poems of Anna Akhmatova, and all the other Russian writers Oksana looks to for comfort and company and some sort of bearing in this absurd world. This novel is a stark, hilarious delight."—Paul Harding, Pulitzer Prize–winning author of Tinkers
About the Author
---
Maria Kuznetsova was born in Kiev, Ukraine, and moved to the United States as a child. She is a recent graduate of the Iowa Writers' Workshop, and Oksana, Behave! is her first novel. Her fiction has appeared in the The Southern Review, McSweeney's Quarterly Concern, Mississippi Review, Kenyon Review Online, The Threepenny Review, and other publications. She lives in Iowa City with her family.
Praise For…
---
"The voice is so, so sharp and so funny that I am just like tickled—tickled!—to be reading it."—Emma Straub, The Wall Street Journal

"Oksana, Behave! is an irresistible, irrepressible comic saga. I utterly loved every page."—Anthony Marra, author of The Tsar of Love and Techno

"Kuznetsova's standout debut offers a fresh and funny look into the life of a bold young immigrant woman. . . . This accomplished and frank work is a new take on an immigrant girl's complicated coming-of-age."—Publishers Weekly

"I love Russian-American coming-of-age stories, and this one is a doozy! Maria Kuznetsova writes like a dream!"—Gary Shteyngart, author of Lake Success

"An absolutely winning book by a genuinely new voice: fiendishly funny, cheerfully disobedient, and perfect in its rendition of the adult-world absurdities a young person must endure on the way to becoming an adult of her own. By the end, you're a part of Oksana's exquisitely drawn, nutso family."—Boris Fishman, author of Don't Let My Baby Do Rodeo

"Whip smart and ambitious, self-effacing and beholden to her various drives, hilarious and then tender, Ukrainian émigré Oksana Konnikova is coming of age in a '90s America that is rapidly losing its way, and the one thing she refuses to do is behave. Maria Kuznetsova writes with great nuance and deep honesty about American girlhood, and her Oksana will win your heart and make you sit up and pay attention. This is a complex, beautifully rendered debut."—Pam Houston, author of Deep Creek

"Like Oksana herself, this story is fierce, funny, brilliant, and irresistible. Kuznetsova has managed a neat trick here: a coming-of-age novel written with the perfect combination of longing and irreverence, and threaded through with wonderful surprises. I fell for Oksana hard and fast and I know you will, too."—Cynthia D'Aprix Sweeney, New York Times bestselling author of The Nest

"Oksana, Behave! is a remarkable novel. I was amazed by how each chapter both sped through time and narrowed in on the very moments that accumulate to make a life. I loved watching fiercely spirited and endlessly charming Oksana grow into a woman, while always remaining true to herself and to what matters most. Heartwarming and so hilarious that the poignancy and tenderness take you by surprise again and again, it was impossible not to root for Oksana, no matter how mischievous her adventure."—Fatima Farheen Mirza, New York Times bestselling author of A Place for Us