Sophisticated Giant: The Life and Legacy of Dexter Gordon (Hardcover)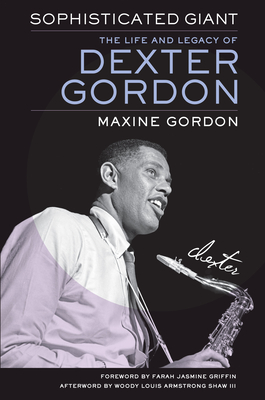 Staff Reviews
---
Dexter Gordon's tone is unparalleled, and his life and discography spans jazz history, from big bands to the beginnings of bebop to the classic recordings of the 1960s and beyond. Maxine Gordon's biography encompasses the breadth of Dexter's life, weaving in frequently astonishing passages of his own unfinished memoir, and conveying his music to its social circumstances. She writes fascinatingly of the organized musicians strike against recording in the early 1940s, resulting in a documentary lacuna in the development of bebop; and the tragic ways in which the racist war on drugs impacted working musicians in subsequent decades. This is my favorite jazz biography of recent years, best supplemented by an hours-long playlist.
— Cam
Description
---
Sophisticated Giant presents the life and legacy of tenor saxophonist Dexter Gordon (1923–1990), one of the major innovators of modern jazz. In a context of biography, history, and memoir, Maxine Gordon has completed the book that her late husband began, weaving his "solo" turns with her voice and a chorus of voices from past and present. Reading like a jazz composition, the blend of research, anecdote, and a selection of Dexter's personal letters reflects his colorful life and legendary times. It is clear why the celebrated trumpet genius Dizzy Gillespie said to Dexter, "Man, you ought to leave your karma to science."
 
Dexter Gordon the icon is the Dexter beloved and celebrated on albums, on film, and in jazz lore--even in a street named for him in Copenhagen. But this image of the cool jazzman fails to come to terms with the multidimensional man full of humor and wisdom, a figure who struggled to reconcile being both a creative outsider who broke the rules and a comforting insider who was a son, father, husband, and world citizen. This essential book is an attempt to fill in the gaps created by our misperceptions as well as the gaps left by Dexter himself. 
About the Author
---
Maxine Gordon is an independent scholar with a lifetime career working with jazz musicians. As an oral historian and archivist in the fields of jazz and African American cultural history, Sophisticated Giant fulfills the promise she made to her late husband, jazz saxophonist and Academy Award-nominated actor Dexter Gordon, to complete his biography.
Praise For…
---
"Maxine Gordon astutely frames the fiery daring of Dexter Gordon's generation of bebop innovators in the context of rising black consciousness and creative agency in midcentury America…"Sophisticated Giant" is a work of considerable sophistication, the first-person testimony of its subject employed with affectionate discipline, smartly contextualized and augmented by material from interviews Maxine Gordon conducted with the tenor saxophone masters Sonny Rollins and Jimmy Heath, the record producers Bruce Lundvall and Michael Cucsuna, and others."
— David Hajdu,

"Dexter Gordon's deep tone, relaxed delivery—even the frequent witty musical quotations—seemed like extensions of his gravely playful speaking voice. That voice carries over on the page too. You can hear it when you read his written testimony and extracts from letters included in Maxine Gordon's illuminating biography."
— Kevin Whitehead,

"'Affectionate, enjoyable and informative, painting a portrait of a handsome, elegant, easygoing person and artist who refused to agonize about his past."
— Wall Street Journal

"A particularly intimate look at . . . career highs in this wonderful biography of the iconic jazzman. . . . Most striking for this reader was how, through her intimate, first-hand knowledge of her husband's life, Maxine was able to convey how the art of jazz was far more than a career path for Dexter and his colleagues. "
— The Austin Chronicle

"Gordon's life has previously been chronicled, but not with so much of his own achingly personal, brutally honest voice. Sophisticated Giant is not a critical analysis of his music; instead, Maxine has interwoven Dexter's own letters and poetry with a broad spectrum of anecdotal accounts, plus her own meticulous scholarship and adoring reflections, to craft a vivid life story. . . . This is a must-read for jazz fans."
— Jazz Times

"A work that's both scrupulously researched history and intimate memoir."
— MOJO

"An intimate, keenly-rendered new biography that will interest jazz enthusiasts and anyone with an interest in American popular culture. . . . It's a warm, subjective story that trains an astute lens on the social and political circumstances that helped shape a career; and for that, it stand outs as a landmark contribution to the literature of the jazz."
— Seattle Times

"Throughout the book, Maxine provides rich descriptions of people, places, and events, often quoting from Dexter. Through her meticulous research, new information about him emerges. . . While meticulous about details, the author is also a good storyteller, so, aside from its scholarly discipline, the book is intriguing and leads the reader forward like an absorbing detective novel."
— All About Jazz

"Blending forensic research with scholarly insight, Sophisticated Giant's compelling story unfurls like one of Gordon's sinuous sax solos. Essential reading for jazz fans."
— Record Collector

"Dexter Gordon left us almost three decades ago, but his presence in 2018 has virtually brought him back to center stage."
— All About Jazz

"When I say that this is essential reading for anyone interested in modern jazz from the late thirties on, you'd better believe it!. . . . Tell your own true love that, this year, you don't want any more partridges in a pear tree, lords a-leaping or even five golden rings. No, what you want for Christmas this year is (apart from him/her) a Sophisticated Giant."
— bebop spoken here

"Easy-to-read, well-written, superbly documented, much-anticipated. . . . One unique thing about the book is that it makes you feel like you are there with her listening to her talk, about her time in the jazz world with some of the best musicians on earth. But just when you get used to her writing like an excited jazz fan, she easily switches to a keen researcher and a solid scholar."
— Jazz Corner

"Exceptional. . . . Maxine Gordon believes that 'the story of Dexter's life is nothing less than a cultural history of creative Black Americans in the interwar and postwar years.' In Sophisticated Giant, she's written a book that reflects this important truth."
— New York City Jazz Record

"Sophisticated Giant paints a convincing picture of an extremely charming, intelligent, resilient, and talented man."
— Arts Fuse

"[Gordon] displays firsthand knowledge of the political economy of jazz playing and the discrimination and grievances musicians endured...her honesty and passion bleed into her prose to create a lively and valuable look at the jazz giant and his world. Verdict: For jazz lovers first but enjoyable for general readers, too."
— Library Journal

"This is a story that had to be told."
— KUVO/KVJZ

"An informative, well-paced, suite like literary work that chronicles the saxophonist's family, influences, inspirations, zeniths, and nadirs, and documents his legacy as one of the most influential saxophonists in jazz history."
— Eugene Holley Jr.,

"Maxine's book shows us not only the world Dexter Gordon lived and breathed, but many other musicians we know, don't know and should know. We see the reality of the Jazz world, the unthinkable hardships and struggles brought together through the common love of music. The book is incredible. Maxine Gordon is incredible. Her passion to share, explore and discuss the reality of the Jazz world is a true inspiration."
— Jazz in Europe

"There's a major new biography out of saxophonist Dexter Gordon, and it's worth checking out."
— Stereogum

"Offers a rare vantage point into the life of one of jazz's most cherished figures."
— Jazziz

"Maxine Gordon's recently released book 'Sophisticated Giant: The Life and Times of Dexter Gordon' is no ordinary jazz biography. It is a book that transports you into the reality of a Jazz musicians' life, the highs and lows, the hardships and the inexplicable power of Jazz – beautifully written by an author whose passion for ensuring Dexter's story is told honestly, is inspiring. Dexter Gordon was indeed a 'Sophisticated Giant' but when you read the book, you can't help but feel there are actually two sophisticated giants here."
— The Jazz Room @ Style Quarterly Magazine
Coverage from NPR