Ulysses Annotated: Revised and Expanded Edition (Paperback)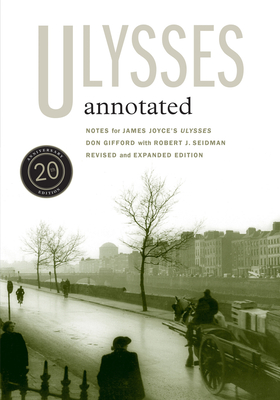 Description
---
Don Gifford's annotations to Joyce's great modern classic comprise a specialized encyclopedia that will inform any reading of Ulysses. The suggestive potential of minor details was enormously fascinating to Joyce, and the precision of his use of detail is a most important aspect of his literary method. The annotations in this volume illuminate details which are not in the public realm for most of us.

The annotations gloss place names, define slang terms, give capsule histories of institutions and political and cultural movements and figures, supply bits of local and Irish legend and lore, explain religious nomenclature and practices, trace literary allusions and references to other cultures. Annotations are keyed not only to the reading text of the critical edition of Ulysses, but to the standard 1961 Random House edition, and the current Modern Library and Vintage texts.
About the Author
---
Internationally renowned Joyce scholar Don Gifford (1919–2000) was Professor of English and American Studies at Williams College and author of Joyce Annotated: Notes for Dubliners and A Portrait of the Artist as a Young Man and The Farther Shore: A Natural History of Perception.
Praise For…
---
Recommended Text
— The James Joyce Centre, Dublin
"This sturdy, handsomely produced reference book is here to stay; we will use it, fill in its margins, rely on it, find fault with it. . . . Ulysses Annotated will be one of the most handy and most important critical tools we have, simply by virtue of its existence and availability. The Revised and Expanded Edition has been substantially enlarged and greatly improved. Many Joyceans have contributed to it; . . . No serious reader of Ulysses can neglect it." 
— James Joyce Quarterly
"Truly useful in its explanation of puns, jokes, foreign phrases, and a myriad of other items including many helpful glosses on terms belonging to the vernacular of Dublin. . . . Gifford's achievement remains a humbling one."
— Modern Fiction Studies
"Ulysses Annotated teaches more than how to read a particular novel; it teaches us more profoundly how to read anything. . . . how to transform the brute fact of our world." 
— Western Humanities Review