Frommer's New York City 2010 (Paperback)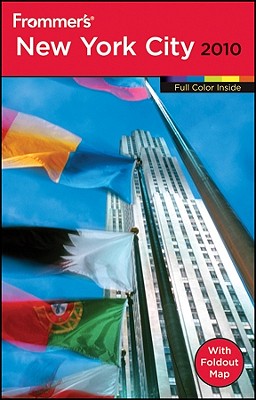 Unavailable, our apologies.
Sorry, We Can Not Obtain this Book at This Time
Description
---
Over 200 full-color photos throughout
Detailed itineraries, including a "Eating Tour" of some of New York's favorite foods
Full-color maps, including a 2-page map of the Bronx Zoo
Tips on gallery-hopping, finding the best inexpensive theater, and the best hotel (and dive) bars
An in-depth chapter that goes from the sale of Manhattan to the Dutch through the city's 400th birthday
New York City abounds with new museums: from the Soho annex of the Rock and Roll Hall of Fame, to the funky New Museum; we'll bring you the latest on the new arrivals and major renovations
Hotel rooms and meals in restaurants are cheaper? How the city is responding to hard times...by cutting prices, and where to look for new-found bargains.
About the Author
---
Brian Silverman (Senior Writer; Best of New York City, Where to Stay, Where to DIne chapters) is a freelance writer whose work has been published in Saveur, The New Yorker, Caribbean Travel & Life, Islands, and Four Seasons. Among the many topics he writes about are food, travel, sports, and music. He is the author of numerous books including Going, Going, Gone: The History, Lore, and Mystique of the Home Run, and the Twentieth Century Treasury of Sports. For Frommer's, he has written Complete, Portable, and Budget guides to New York City, as well as New York City For Dummies. He lives in Manhattan with his wife and children. Born in southern Louisiana and educated in Seattle, Kelsy Chauvin (Best of New York City, Shopping, After Dark chapters) now lives in Brooklyn. She is co-author of the award-winning Frommer's MTV Roadtrips U.S.A. She is a writer and photographer of varied interests, with an emphasis in exploring absolutely anything one-of-a-kind and new (at least to her). With her wherever she goes are cameras, pens, postcards, stamps, and any of a series of tattered notebooks (www.kelsychauvin.com). Richard Goodman (Best of New York City, New York City in Depth, Planning Your Trip, Neighborhoods and Suggested Itineraries, Exploring New York and Appendix: Fast Facts chapters) is the author of The Soul of Creative Writing and French Dirt: The Story of a Garden in the South of France. He has written on a variety of subjects for many national publications, including the New York Times, Harvard Review, Vanity Fair, Saveur, Commonweal, Creative Nonfi ction, Louisville Review, Ascent, French Review, and the Michigan Quarterly Review. He teaches Creative Nonfi ction at Spalding University's Brief Residency MFA in Writing Program in Louisville, Kentucky. He has lived and worked in New York City for 30 years.