The Giant and How He Humbugged America (Hardcover)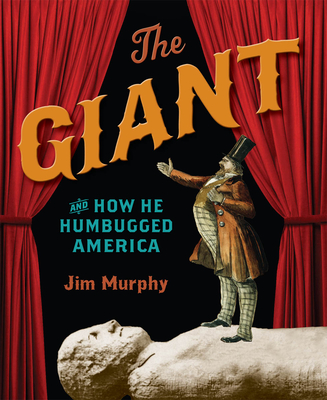 Staff Reviews
---
The only reason I'm not a full-time grifter is because I lack the patience needed for a successful long con. I once purchased a subscription to Pageantry Magazine for a Toddlers and Tiaras-loving friend and having to wait for her first issue to arrive before I took credit for the joke damn near killed me. This book made me think about that a lot, and it made me wish I had:
1. The moxie to fake a skeleton of a 10-foot-tall giant
2. The ambition to bury it
3. The patience to wait a year before "finding" it
4. The salesmanship to profit off it
— Cristin
Description
---
Two-time Newbery Honor Book author has written an amazing account of one of America's most famous hoaxes!When a 10-foot tall purported "petrified man" is unearthed from a backyard in upstate New York in 1869, the discovery immediately turns into a spectacle of epic proportions. News of the giant spreads like wildfire, and well over a thousand people come to view him in the first five days alone!Everyone has their own idea of his true origin: Is he an ancient member of the local Onandaga Indian tribe? Is he a biblical giant like Goliath? Soon the interests of world-renowned scientists and people from around the globe are piqued as arguments flare over who he is, where he came from, and if he is real--or just a hoax. In a riveting account of how the Cardiff Giant mystery snowballed into one of America's biggest money-making spectacles--and scams--Jim Murphy masterfully explores the power of 19th-century media and the unexpected ripple effect that a single corrupt mastermind can produce when given a stage.
About the Author
---
Jim Murphy is the celebrated author of more than thirty-five books for young readers, most notably TRUCE: THE DAY THE SOLDIERS STOPPED FIGHTING and THE GREAT FIRE, a Newbery Honor Winner. His carefully researched, engaging, and elegantly written nonfiction has garnered the most prestigious awards in the field. He lives in Maplewood, New Jersey, with his wife and their two sons.

Praise For…
---
Praise for Jim Murphy:The Great Fire A Newbery Honor Book* "A vertiable cinematic account." -- Kirkus Reviews, starred reviewBlizzard! A Robert F. Sibert Honor Book2010 Margaret Edwards Award * "An example of stellar nonfiction." -- Booklist, starred reviewThe Crossing: How George Washington Saved the American Revolution* "A refreshingly frank, vivid, well-researched account of a pivotal time in American history." -- Booklist, starred review Truce* "Spectacular!" -- Kirkus Reviews, starred review

Praise for Jim Murphy:The Great Fire A Newbery Honor Book* "A vertiable cinematic account." -- Kirkus Reviews, starred reviewBlizzard! A Robert F. Sibert Honor Book2010 Margaret Edwards Award * "An example of stellar nonfiction." -- Booklist, starred reviewThe Crossing: How George Washington Saved the American Revolution* "A refreshingly frank, vivid, well-researched account of a pivotal time in American history." -- Booklist, starred review Truce* "Spectacular!" -- Kirkus Reviews, starred review