Sometimes I'm Bombaloo (Scholastic Bookshelf) (Paperback)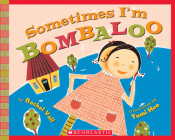 Description
---
Vail & Heo deliver a wise, warm take on tantrums.
Let the Scholastic Bookshelf be your guide through the whole range of your child's experiences--laugh with them, learn with them, read with them!
Category: Feelings

Sometimes, Katie loses her temper.Sometimes she uses her feet and her fists instead of words. When Katie is this mad, she's just not herself. Sometimes, she's BOMBALOO.

Being BOMBALOO is scary. But a little time-out and a lot of love calm BOMBALOO down and help Katie feel like Katie again!
About the Author
---
Yumi Heo was born and raised in Korea, where she studied graphic design. She has written and illustrated many books, including ONE AFTERNOON. She lives in White Plains, New York, with her husband, Steve, and their children.