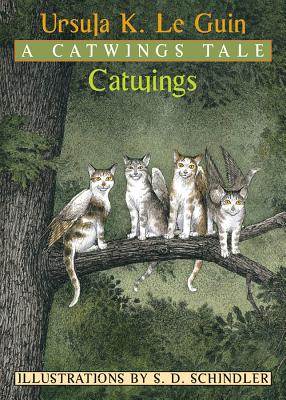 Staff Reviews
---
I have already given you all of the information you need to know in order to understand that this book is awesome, namely: there exists in the world a five dollar novel for seven year olds written by Ursula Le Guin about CATS that HAVE WINGS.
— Cristin
This book is the drawing of the hat in The Little Prince. Exquisitely and plainly, near devastatingly told. No moral. No teaching moment. No pandering. Only magic.
— Allison
Description
---
The bestselling Catwings series!
Mrs. Jane Tabby can't explain why her four precious kittens were born with wings, but she's grateful that they are able to use their flying skills to soar away from the dangerous city slums where they were born. However, once the kittens escape the big city, they learn that country life can be just as difficult!
About the Author
---
Ursula Le Guin writes both poetry and prose, and in various modes including children's books, YA books, fantasy, science fiction and fiction. She is the author of the bestselling and award winning CATWINGS series. Three of Le Guin's titles have been finalists for The American Book Award and the Pulitzer Prize, and among the many honors her writing has received are a National Book Award, five Hugo Awards, five Nebula Awards, and The Margaret A. Edwards Award. She lives in Oregon.