ATTENTION: Dispatches from a Land of Distraction (Hardcover)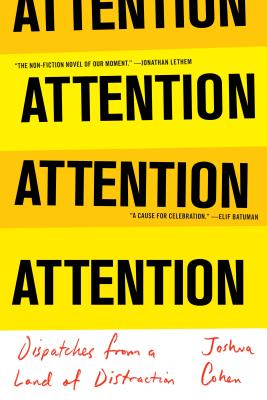 Unavailable, our apologies.
Description
---
"Attention reveals a fresh, vital literary voice as it covers seemingly every imaginable topic relating to modern life."—Entertainment Weekly 
 
"Joshua Cohen may be America's greatest living writer."—The Washington Post

NAMED ONE OF THE BEST BOOKS OF THE YEAR BY WIRED

One of Granta's Best of Young American Novelists, Joshua Cohen arrives with his first collection of nonfiction, the culmination of two decades of writing and thought about life in the digital age. In essays, memoir, criticism, diary entries, and letters—many appearing here for the first time—Cohen covers the full depth and breadth of modern life: politics, literature, art, music, travel, the media, and psychology, and subjects as diverse as Google, Donald Trump, Bernie Sanders, fictional animals, Gustav Mahler, Aretha Franklin, John Zorn, landscape photography, fake Caravaggios, Wikipedia, Gertrude Stein, Edward Snowden, Jonathan Franzen, Olympic women's fencing, Atlantic City casinos, the closing of the Ringling Bros. circus, and Azerbaijan. 

Throughout ATTENTION, Cohen directs his sharp gaze at home and abroad, calling upon his extraordinary erudition and unrivaled ability to draw connections between seemingly unlike things to show us how to live without fear in a world overflowing with information. In each piece, he projects a quality of thought that is uniquely his, and a voice as witty, profound, and distinct as any in American letters.

At this crucial juncture in history, ATTENTION is a guide for the perplexed—a handbook for anyone hoping to bring the wisdom of the past into the culture of the future.

Praise for ATTENTION

"Dazzling in its scope . . . If curiosity is a writer's greatest innate gift, Joshua Cohen may be America's greatest living writer."—The Washington Post 

"Cause for celebration and close study . . . [Cohen] will hunt after neglected shards of the past, minor histories, and charge them with an immediacy in the present. . . . He is experimenting with the essay form much more, and more cleverly, than any major American writer today."—The Wall Street Journal

"In Attention, Joshua Cohen makes an eclectic argument for how to improve our lives. . . . [He] tackles a surprising range of subjects to underline distraction's role in our fraught predicament and to argue that paying attention could help us get out of it. . . . When it comes to making sense of our times with verve and imagination, few authors are more rewarding."—Financial Times
About the Author
---
Joshua Cohen was born in 1980 in Atlantic City. He has written novels (Moving Kings, Book of Numbers), short fiction (Four New Messages), and nonfiction for The New York Times, Harper's Magazine, n+1, London Review of Books, The New Republic, and others. From 2001 to 2007, he worked as a journalist throughout Europe. In 2017 he was named one of Granta's Best of Young American Novelists. He lives in New York City.
Praise For…
---
"Dazzling in its scope . . . If curiosity is a writer's greatest innate gift, Joshua Cohen may be America's greatest living writer."—The Washington Post 

"Cause for celebration and close study . . . [Cohen] will hunt after neglected shards of the past, minor histories, and charge them with an immediacy in the present. . . . He is experimenting with the essay form much more, and more cleverly, than any major American writer today."—The Wall Street Journal

"In Attention, Joshua Cohen makes an eclectic argument for how to improve our lives. . . . [He] tackles a surprising range of subjects to underline distraction's role in our fraught predicament and to argue that paying attention could help us get out of it. . . . When it comes to making sense of our times with verve and imagination, few authors are more rewarding."—Financial Times

"Brilliant . . . Joshua Cohen—novelist, journalist, critic; prodigy, polyglot, polymath—has one of the most interesting minds in circulation. . . . Cohen is working his way through, and laying claim to, a personal imaginative geography."—The New York Times Book Review

"Fabulous . . . funny . . . spot-on . . . There's so much pleasure in Cohen's sentences. . . . What thrilled me was the imaginative and transfiguring attention Cohen pays to everything he touches."—James Wood, The New Yorker 

"Prescient . . . Attention reveals a fresh, vital literary voice as it covers seemingly every imaginable topic relating to modern life, both at home and abroad."—Entertainment Weekly

"Whip-sharp . . . Cohen here flaunts a next-level virtuosity across countless fields of expertise. . . . [He] is a phenomenal thinker whatever the theme whatever the subject: granular, acrobatic, startling."—The Guardian

"Brilliant . . .  Cohen's answer is that the defense of literature and the defense of the human capacity to pay attention are inextricably linked. . . . In his novels and here in his first collection of nonfiction, he seems to be trying to turn the tables, to insist, with embattled conviction, that the best way to understand a society that exists and discourses in the cloud is through the lens of the hardcover tradition of trying to read, or write, a book. It's a moving argument, one worth readers' attention, which is about the highest praise a reviewer can give in a world that lacks just that."—Los Angeles Review of Books

"A grand gathering across place and time, cohered around this notion of attention—who pays it, what it costs . . . [Cohen is] a dogged and astute chronicler and critic of the internet and the culture of distraction it engenders. But Attention also pays attention, a journalist's or even a muckraker's attention, to the real world. To the depredations of post-crash politics and economics, the resurrection of irony and the death of facts."—Bookforum

"Joshua Cohen has a complex and capacious consciousness."—Harold Bloom

"Cohen, one of our crucial young novelists, has written the nonfiction novel of our moment, formed of a constellation of investigations and inklings. No one's done such a thing so well since George Trow or Joan Didion or Norman Mailer, if ever. It's chasteningly brilliant, and the kind of chastening we unfortunately need."—Jonathan Lethem

"Joshua Cohen is one of my favorite nonfiction writers. This book is a cause for celebration."—Elif Batuman