Marching to Appomattox: The Footrace That Ended the Civil War (Hardcover)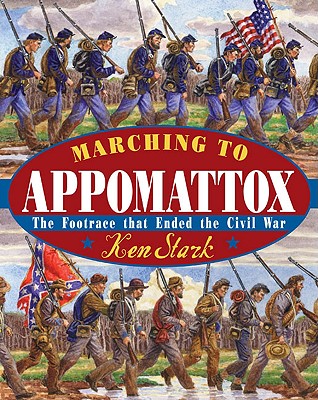 Unavailable, our apologies.
Description
---
We always hear about how wars start, but how they end can be just as fascinating. That is certainly the case with America's Civil War. After the fall of Richmond, Robert E. Lee and his Confederate troops were racing toward North Carolina for supplies and reinforcements. Ulysses S. Grant's Union troops were determined to stop them. Both sides were certain they would prevail, yet after fighting with all his heart and soul, Lee surrendered at Appomattox Court House. What made him do that?
Find out how geography, luck, perseverance, and compassionate diplomacy by Lee, Grant, and Abraham Lincoln combined to change the course of our nation's history.
 
About the Author
---
Ken Stark is an award-winning book illustrator/painter, editorial cartoonist, and freehand graphic artist who has mostly lived and worked in rural Illinois and Wisconsin. The lifelong artist is largely self-taught, having studied only briefly at Art Center School in Los Angeles. He has written and/or illustrated five picture books. Marching to Appomattox: The Footrace That Ended the Civil War is the winner of the 2011 Beacon of Freedom Award from the Williamsburg Regional Library and the Colonial Williamsburg Foundation, presented annually to a book that introduces history to children in a historically accurate and engaging manner, as well as a Wisconsin Library Association Outstanding Children's Title and a New York State Reading Association's Charlotte Award nominee. Stark's research for this nonfiction, multigenerational book took him to the village of Appomattox Court House in Virginia where he imagined being a witness to the surrender. Stark also wrote and illustrated his childhood memoir, Oh, Brother!, and illustrated Growing Seasons by Elsie Lee Splear, Orphan Train by Verla Kay, and Seeing the Elephant: A Story of the Civil War by Pat Hughes (A Bank Street Best Children's Book of the Year and NCSS-CBC Notable Trade Book in the Field of Social Studies). He has spoken at the Wisconsin State Reading Association's annual meeting, the Wisconsin Book Festival and the Civil War Museum, Kenosha, Wisconsin, among other venues, as well as to student and community groups. All  of the paintings for Ken Stark's books have been shown in museums and galleries and are available for future exhibition. Stark and his wife/research assistant Chris live and work in an 1800s log house they reconstructed in southwestern Wisconsin.
Praise For…
---
"In this dramatic day-by-day account, Stark chronicles the tense six-day chase in April 1865 that ended with the Army of Northern Virginia's failure to break out of the encircling Union forces....Absorbing."
—Booklist

"Stark frames this war vignette effectively for young readers....The author is respectful of both Grant and Lee, and depicts the soldiers on both sides as having more in common than not.... This book has appeal for the many children who enjoy reading about the Civil War or who may be visiting the Appomattox Court House National Historical Park."
—School Library Journal

"Realistic paintings in watercolor, gouache and casein depict a determined but rumpled and muddy Grant, enthusiastic boys in blue, both black and white, and exhausted Confederates in grey led by the handsome, sharply dressed Lee. An opening map that shows the location of each major battle introduces a clear narrative that is detailed enough to make this chapter in American history come alive."
—Kirkus Reviews

"A wonderfully illustrated look at the closing days of the Civil War. . . . Quotes are provided throughout the book from soldiers, as well as generals, giving this a strong voice. Interesting facts that are often left out are provided, making this a truly unique read."
—LMC

Winner of the 2011 Beacon of Freedom Award from the Williamsburg Regional Library and the Colonial Williamsburg Foundation, presented annually to a book that introduces history to children in a historically accurate and engaging manner

Winner of the Wisconsin Library Association Outstanding Children's Title