Betsy Zane, The Rose of Fort Henry (Hardcover)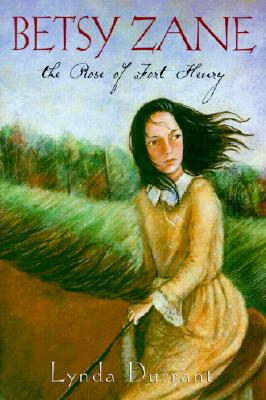 Unavailable, our apologies.
Description
---
Thirteen-year-old Betsy Zane is bored with her privileged life in Philadelphia, bored with her great-aunt's stories about the old days, and bored with trying to be a lady. She longs to rejoin her brothers at the family homestead along the Ohio River, where she can finally be free to enjoy the unspoiled countryside that she has missed ever since she was forced to leave it as a child.

When her great-aunt dies, Betsy has the opportunity to return to her frontier home. She frees the house slaves, bundles up the few belongings she can carry, and sets off to find safe passage to the homestead she has dreamed about for so long. At Zane Station she finds much excitement—and some tough choices. Her new life forces her to think more deeply about slavery, loyalty, and family. Betsy begins a romance with a dashing young soldier, and takes part in the greatest adventure of her life, a heroic run for gunpowder—a historical event—that saves Fort Henry in what proved to be the final battle of the Revolutionary War.

Based on the true story of Betsy Zane, this exciting account of a real-life heroine's adventures on the western frontier is rich with vivid and carefully researched historical detail. Author's note, bibliography.
Praise For…
---
"takes readers at a gallop...pausing for steady looks at contemporary attitudes and tracking a strong-willed citizen of our young country" Booklist, ALA, Boxed Review

"provactive questions emerge concerning the actions that earned 'patriots' like Betsy the title of hero" The Bulletin of the Center for Children's Books

"A real winner in every sense of the word." Kirkus Reviews

A compelling work of period fiction strongly rooted in fact. During Revolutionary War-era America, 12-year-old Betsy Zane lives with an elderly aunt in Philadelphia. Sent there by her brothers to protect her from her war-torn native Virginia. Betsy finds Philadelphia unbearably filthy and generally unsatisfactory. When her aunt dies suddenly, the girl finds herself all alone with few options, but nevertheless musters the pluck and composure to arrange her aunt's funeral, dispose of her family's wealth, and assemble a travel party to escort her back to Virginia. The journey is eye-opening and exciting, and Betsy is thrilled to be reunited with her long-lost family. Once there, the excitement builds even further to a thrilling climax in which Betsy saves the day by completing a successful run for gunpowder, sustaining Fort Henry through the final battle of the war. Exhaustively researched, Durrant's story successfully brings the remarkable Zane family members to life. Unfortunately, she has trouble letting their exploits speak for themselves, and instead takes unnecessary pains to ensure that their remarkable qualities don't go unnoticed. She needn't have bothered; the Zane's admirable reserves of grit and resilience are impossible to ignore. Young readers may have to remind themselves that the brave protagonist was a mere child who risked her life in a bloody battle rather than surrender.
School Library Journal