The Woman Destroyed (Paperback)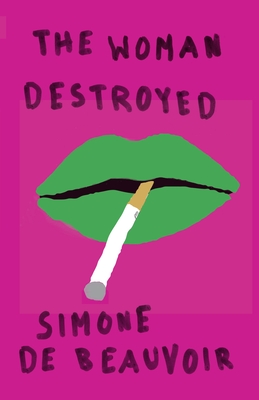 Staff Reviews
---
Oh, Simone. Thank you for your honesty. No, every marriage does not end well. We do not all live "happily ever after." And somehow it feels better to know about pain and to read about it, than to pretend it doesn't exist. If you want to face your fears and stop living in a bubble of fairy tale magic, read "The Woman Destroyed." Your heart will thank you.
— Rachel
In these three novellas ("The Age of Discretion"; "The Monologue"; "The Woman Destroyed"), claustrophobic first person narratives underscore the thwarted/trapped/disfigured nature of these women's lives; staged in 1960's Paris, these books speak beyond time and geography. Beyond the individual circumstances of three variously unhappy/suffering/embittered women; beyond the obliterating interiority; beyond apportioning blame or citing delusion; rises the crushing ubiquity of a patriarchal, paternalistic world saturated with misogyny, inequity, injustice, sexism, racism, materialism, ad nauseam. To varying degrees, these women serve as symbols of the inevitable destruction predicated on women's inability to recognize the cultural bindings that hobble them: emotionally, intellectually, economically, sexually. Trapped behind the ugly fun-house mirrors of culturally-imposed narcissism; forged in the grotesque nursery of parental self-absorption and abuse (perfected by the self-hating "mother," reliable enforcer of every patriarchal whip and whim; herself "confined" as judge, jailer, and prisoner); these women are "woman" cast as the infinite Other, incapable of moving beyond immanence to achieve transcendence. Ravaged by domestic self-abnegation and male rejection of domestic parity; manacled by the hypocritical "bonds" of matrimony; enduring circumscribed, mutilated ambitions; discarded as objects of passion: de Beauvoir exposes, remorselessly, the raw, flayed flesh of Women, destroyed.
— Yvonne
It helped me better understand how it feels to be an old woman, and a young woman, and a couple, and a person.
— Landon
Description
---
In three "immensely intelligent stories about the decay of passion" (The Sunday Herald Times [London]), Simone de Beauvoir draws us into the lives of three women, all past their first youth, all facing unexpected crises.
 
Enthralling as faction, suffused with de Beauvoir's remarkable insights into women, The Woman Destroyed gives us a legendary writer at her best.
About the Author
---
Simone de Beauvoir was born in Paris in 1908. In 1929 she became the youngest person ever to obtain the agrégation in philosophy at the Sorbonne, placing second on the exam to Jean-Paul Sartre. She taught at lycées in Marseille and Rousen from 1931 to 1937, and in Paris from 1938 to 1943. After World War II, she emerged as one of the leaders of the existentialist movement, working with Sartre on Les Temps Modernes. The author of many acclaimed works, de Beauvoir was one of the most influential thinkers of her generation. She died in 1986.
Praise For…
---
"Witty, immensely adroit . . . These three women are believable individuals presented with a wry mixture of sympathy and exasperation."
—The Atlantic

"A remarkable feat of empathy."
—The Times Literary Supplement

"Brilliant craftsmanship." 
— Harper's