House of Stone: A Novel (Hardcover)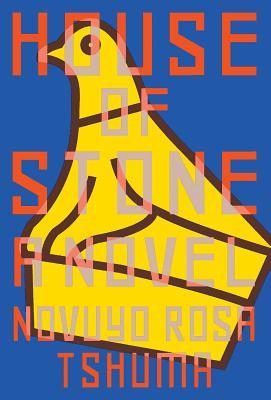 Description
---
Pulsing with wit, seduction, and dark humor, House of Stone is a masterful debut that explores the creative—and often destructive—act of history-making.
In the chronic turmoil of modern Zimbabwe, Abednego and Agnes Mlambo's teenage son, Bukhosi, has gone missing, and the Mlambos fear the worst. Their enigmatic lodger, Zamani, seems to be their last, best hope for finding him. Since Bukhosi's disappearance, Zamani has been preternaturally helpful: hanging missing posters in downtown Bulawayo, handing out fliers to passersby, and joining in family prayer vigils with the flamboyant Reverend Pastor from Agnes's Blessed Anointings church. It's almost like Zamani is part of the family…
But almost isn't nearly enough for Zamani. He ingratiates himself with Agnes and feeds alcoholic Abednego's addiction, desperate to extract their life stories and steep himself in borrowed family history, as keenly aware as any colonialist or power-mad despot that the one who controls the narrative inherits the future. As Abednego wrestles with the ghosts of his past and Agnes seeks solace in a deep-rooted love, their histories converge and each must confront the past to find their place in a new Zimbabwe.
Pulsing with wit, seduction, and dark humor, House of Stone is a sweeping epic that spans the fall of Rhodesia through Zimbabwe's turbulent beginnings, exploring the persistence of the oppressed in a young nation seeking an identity, but built on forgetting.
About the Author
---
Novuyo Rosa Tshuma, winner of the 2014 Herman Charles Bosman Prize, is a graduate of the Iowa Writers' Workshop and is a fiction editor at the Bare Life Review, a journal of refugee and immigrant literature based in San Francisco. A native of Zimbabwe, she has lived in South Africa and the US and has been invited to give public lectures at Oxford University and the Nordic Africa Institute.
Praise For…
---
Tshuma's brilliant layering of competing images and metaphors is one of the many marvels of this wise and demanding novel. . . . It's a remarkable feat. . . . Tshuma shows us how much work it takes to efface the past, and, through House of Stone, she proves that those efforts are no match for a novel as ambitious and ingenious as this one.

— Dinaw Mengestu

With luminous language, Novuyo Rosa Tshuma explores the treacherous terrain of colonization and decolonization, remembering and forgetting, and love and betrayal. The result is a gripping account of revolution and its aftermath, both for a country and for one man.
— Viet Thanh Nguyen, Pulitzer Prize–winning author of The Sympathizer

Novuyo Rosa Tshuma has written a towering and multilayered gem. House of Stone is one of the greatest-ever novels about Zimbabwe. What a timely, resonant gift.

— NoViolet Bulawayo, author of We Need New Names

House of Stone is a novel of such maturity, such linguistic agility and scope that you'll scarcely believe it's a debut. Tshuma has set her formidable talents to no less a subject than the emergence of Zimbabwe from the darkness and tumult of colonialism. It's fierce and energetic right to the end, and whip smart to boot.

— Ayana Mathis, author of The Twelve Tribes of Hattie

To call [House of Stone] clever or ambitious is to do it a disservice—it is both, but also more than that…Tshuma is incapable of writing a boring sentence…By the end, she has managed to not only sum up Zimbabwean history, but also all of African colonial history: from devastating colonialism to the bitter wars of independence to the euphoria of self-rule and the disillusionment of the present. It is an extraordinary achievement for a first novel.

— Helon Habila

Tshuma's writing is smart, original, feisty, brutal and gorgeous. She hits the perfect note on every single page in this gripping novel about history, belonging and power. This is the work of an incredible, incredible talent.
— Chika Unigwe, author of On Black Sisters Street

Novuyo Tshuma is pure
fire.
— Garth Greenwell, author of What Belongs to You

A revealing chronicle of revolutionary and postcolonial Zimbabwe and a finely engraved portrait of obsession, told in fluid, absorbing language. 

A multilayered, twisting, and surprising whirlwind of a novel that is as impressive as it is heartbreaking.