These Truths: A History of the United States (Paperback)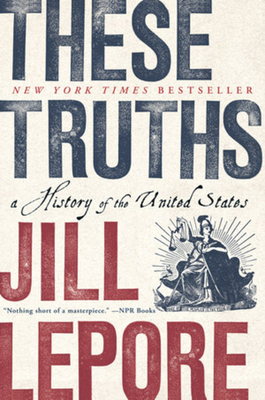 Staff Reviews
---
How technology shaped our politics and culture has been the focus of Lepore's work long before social media and troll- factories. A Harvard historian and New Yorker staff writer, she has a well-honed eye for stories others have overlooked, like that of Benjamin Lay, the Anglo-American Quaker who was so disturbed by the prospect of benefiting from slave labor he moved into a cave he promptly filled with books - and walked across the states advocating for abolition. Essential and gripping, These Truths is important not only in this political moment, but always.
— Jeff
Description
---
"Nothing short of a masterpiece." —NPR Books

A New York Times Bestseller and a Washington Post Notable Book of the Year



In the most ambitious one-volume American history in decades, award-winning historian Jill Lepore offers a magisterial account of the origins and rise of a divided nation.
Widely hailed for its "sweeping, sobering account of the American past" (New York Times Book Review), Jill Lepore's one-volume history of America places truth itself—a devotion to facts, proof, and evidence—at the center of the nation's history. The American experiment rests on three ideas—"these truths," Jefferson called them—political equality, natural rights, and the sovereignty of the people. But has the nation, and democracy itself, delivered on that promise?
These Truths tells this uniquely American story, beginning in 1492, asking whether the course of events over more than five centuries has proven the nation's truths, or belied them. To answer that question, Lepore wrestles with the state of American politics, the legacy of slavery, the persistence of inequality, and the nature of technological change. "A nation born in contradiction… will fight, forever, over the meaning of its history," Lepore writes, but engaging in that struggle by studying the past is part of the work of citizenship. With These Truths, Lepore has produced a book that will shape our view of American history for decades to come.
About the Author
---
Jill Lepore is the David Woods Kemper '41 Professor of American History at Harvard University and is also a staff writer at The New Yorker. A two-time Pulitzer Prize finalist, her many books include the international bestseller These Truths and This America.
Praise For…
---
Lepore has written the most honest accounting of our country's history that I've ever read.
— Bill Gates

It isn't until you start reading it that you realize how much we need a book like this one at this particular moment.… Brilliant.
— Andrew Sullivan - New York Times Book Review

[These Truths] captures the fullness of the past, where hope rises out of despair, renewal out of destruction, and forward momentum out of setbacks.

— Jack E. Davis - Chicago Tribune

It is the story of a nation, multiracial at its founding, and those who sought to find ways to realize 'these truths.'
— John S. Gardner - Guardian

This sweeping, sobering account of the American past is a story not of relentless progress but of conflict and contradiction, with crosscurrents of reason and faith, black and white, immigrant and native, industry and agriculture rippling through a narrative that is far from completion.
— New York Times Book Review

[Lepore's] one-volume history is elegant, readable, sobering; it extends a steadying hand when a breakneck news cycle lurches from one event to another, confounding minds and churning stomachs.
— Jennifer Szalai - New York Times

Those devoted to an honest reckoning with America's past have their work cut out for them. Lepore's book is a good place to start.
— H. W. Brands - Washington Post

Sweeping and propulsive.
— Boris Kachka - Vulture

In her epic new work, Jill Lepore helps us learn from whence we came.
— Natalie Beach - O, Oprah Magazine

Gripping, moving, and beautifully written.
— Evan Thomas - Boston Globe

A splendid rendering—filled with triumph, tragedy, and hope—that will please Lepore's readers immensely and win her many new ones.
— Kirkus Reviews (starred review)