Roll Deep: Poems (Paperback)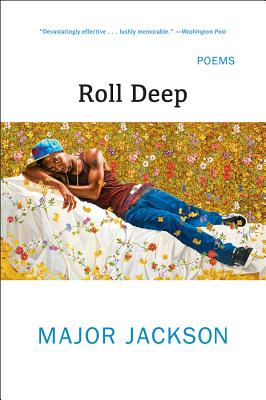 Description
---
A whimsical and "devastatingly effective" (Washington Post) collection that captures the spirit of travel and pays homage to heritage.
In his fourth collection, a breakthrough volume, Major Jackson appropriates the vernacular notion of "rolling deep" to capture the spirit of aesthetic travel that defines these forceful new poems and brazenly announces his steady accretion of literary and artistic influences, both formal and experimental—his "crew." The confident and radiant poems in Roll Deep address a range of topics, most prominently human intimacy and war. And like his best work to date, these poems create new experiences with language owed to Jackson's willingness to once again seek a rhythmic sound that expresses the unique realities of the twenty-first century with humor and understanding. Whether set in Nairobi, Madrid, or Greece, the poems are sensuously evocative and unapologetically with-it, in their effort to build community across borders of language and style.
From Urban Renewal, "The Dadaab Suite":



I have come to Dadaab like an actor

on a press release, unprepared for the drained faces

of famine-fleeing refugees, my craft's glamour

dimmed by hundreds of infant graves, children

whose lolling heads' final drop landed on their mothers'

backs like soft stones. What beauty can I spell in

this swelter of dust?
About the Author
---
Major Jackson is the author of five volumes of poetry, including The Absurd Man, Roll Deep, and Leaving Saturn, which won the Cave Canem Poetry Prize for a first book of poems. He has edited Best American Poetry 2019 and is a recipient of fellowships from the Guggenheim Foundation, the National Endowment for the Arts, and the Fine Arts Work Center in Provincetown. He has been awarded a Pushcart Prize and a Whiting Writers' Award, and his work has appeared in American Poetry Review, The New Yorker, and the Paris Review, among other publications. The poetry editor of the Harvard Review, Jackson lives in South Burlington, Vermont, where he is a University Distinguished Professor at the University of Vermont.
Praise For…
---
Extraordinary...Jackson has created a new poetry of praise.

Major Jackson wants art to 'Blow / back the ordinary / jive of planet Earth,' and his new poems roil and buckle, skitter and swerve, clot and spill out into the world. Roll Deep is his fourth and best book; his voice seems to have broken loose, allowing for all manner of praise and lament, for observation and meditation, the grim and the goofball, and for outbreaks of pure sorcery, where 'punctuation is my jury and the moon is my judge.'

— Mark Doty

Major Jackson's fourth collection of poetry, Roll Deep, juxtaposes the physical and the metaphysical, the external and the internal where the landscape and the mind of the poet converge until time bends. The imagery travels through a timely multiplicity, always surefooted and attuned, but never outdistancing the natural truth in this cosmopolitan voice. The poet writes the world he encounters, and imagines, with playfully deep interplay. The music in the language of Roll Deep is seductively straightforward, and each body-brain poem here puts genius squarely on the line.

— Yusef Komunyakaa