Swansong 1945: A Collective Diary of the Last Days of the Third Reich (Paperback)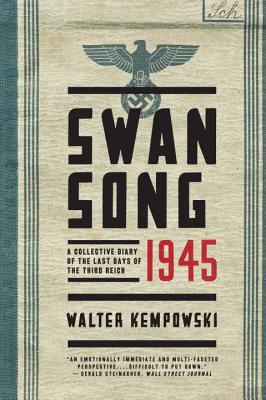 Description
---
A monumental work of history that captures the last days of the Third Reich as never before.
Swansong 1945 chronicles the end of Nazi Germany through more than 1,000 extracts from letters, diaries, and autobiographical accounts, written by civilians and soldiers alike. Together, they present a panoramic view of four tumultuous days that fateful spring: Hitler's birthday on April 20, American and Soviet troops meeting at the Elbe on April 25, Hitler's suicide on April 30, and the German surrender on May 8. An extraordinary account of suffering and survival, Swansong 1945 brings to vivid life the end of World War II in Europe.
About the Author
---
Walter Kempowski (1929–2007) was one of Germany's most important postwar writers. In the 1980s he began gathering diaries, letters, and memoirs of World War II, which he edited into ten volumes published in German. Swansong 1945 is the first portion to appear in English.

Shaun Whiteside's translations from the German include classics by Freud, Musil, and Nietzsche.
Praise For…
---
An emotionally immediate and multi-faceted perspective of the last days of the Third Reich… No mere anthology but an artful collage… Difficult to put down.
— Gerald Steinacher - Wall Street Journal

A disturbing but compulsively readable slice of history.
— Christian Science Monitor

Some of this has been reported before, but the shock is fresh…[Swansong 1945] will break your heart…The lessons here—and there are many—do not depend on a detailed knowledge of anything other than what it is to be a human being and to suffer.

— Bill Marvel - Dallas Morning News

This important book takes us beyond geography, statistics and battles and reveals the cost of war in very human terms.
— Roger Bishop - BookPage

A treasure… [Swansong 1945] offer[s] powerful glimpses into otherwise lost history… The collection is a kaleidoscope of voices, revealing struggle of all kinds.

— Sarah Grant - Booklist (starred review)

A remarkable collage of experiences and impressions of the catastrophic last days of the Second World War, which provides a unique panorama of the war and a very powerful impression of its impact on and the responses of those involved.
— Jeremy Noakes, author of Nazism 1919-1945

A unique and haunting insight into what it was like to live through the violent twilight of the Third Reich. Indispensable and, above all, unforgettable.
— Frederick Taylor, author of Dresden

A bewitching, dramatic, utterly extraordinary range of voices and eyewitness testimony as Europe entered its year-zero moment.
— David Kynaston, author of Austerity Britain

A rare combination of aesthetic and historic truths… What gives Kempowski's work its reach and humanity is his keen eye for both the sensory experience of war at its most destructive and individuals' compulsion to go on making sense of it as it engulfed them.
— Nicholas Stargardt, author of Witnesses of War

Amidst the fascinating multitude of voices assembled here the one that speaks most powerfully is that of Kempowski himself. This is a remarkable document of one person's lifelong struggle to make sense of national collapse.
— Neil Gregor, author of Haunted City

Kempowski is a master of form and proportion… The end of the war has never before been depicted like this.
— Volker Hage, author of Hamburg 1943