The Bhagavad Gita: A New Translation (Paperback)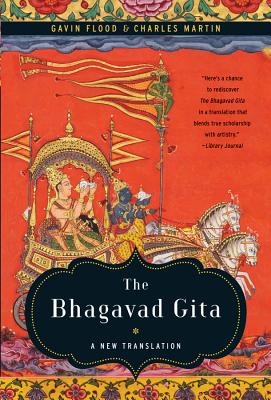 Description
---
The Bhagavad Gita, the Song of the Lord, is an ancient Hindu scripture about virtue, presented as a dialogue between Krishna, an incarnation of God, and the warrior Arjuna on the eve of a great battle over succession to the throne.
This new verse translation of the classic Sanskrit text combines the skills of leading Hinduist Gavin Flood with the stylistic verve of award-winning poet and translator Charles Martin. The result is a living, vivid work that avoids dull pedantry and remains true to the extraordinarily influential original. A devotional, literary, and philosophical masterpiece of unsurpassed beauty and imaginative relevance,
The Bhagavad Gita
has inspired, among others, Mahatma Gandhi, J. Robert Oppenheimer, T. S. Eliot, Christopher Isherwood, and Aldous Huxley. Its universal themes—life and death, war and peace, sacrifice—resonate in a West increasingly interested in Eastern religious experiences and the Hindu diaspora.
About the Author
---
Gavin Flood is Professor of Hindu Studies and Comparative Religion and Academic Director of the Centre for Hindu Studies at Oxford University. He is the author of An Introduction to Hinduism; The Ascetic Self: Subjectivity, Memory, and Tradition; and The Tantric Body: The Secret Tradition of Hindu Religion.

Charles Martin was born in New York City in 1942. He earned a Ph.D. in English from the State University of New York at Buffalo. The recipient of numerous awards, Martin has received the Bess Hokin Prize, the Literature Award from the American Academy of Arts and Letters, and fellowships from the National Endowment for the Arts and the Ingram Merrill Foundation. Three of his poetry collections—Steal the Bacon (1987), What the Darkness Proposes (1996), and Starting from Sleep: New and Selected Poems (2002)—have been nominated for the Pulitzer Prize. His translation of Ovid's Metamorphoses won the 2004 Harold Morton Landon Translation Award from the Academy of American Poets.
Praise For…
---
Here's a chance to rediscover The Bhagavad Gita in a translation that blends true scholarship with artistry.

— Library Journal

A true translation whose literary qualities make it stand out from the rest.
— Daniel Gold, Cornell University

Gavin Flood and Charles Martin have taken on the immense challenge of translating The Bhagavad Gita, a highly structured classical Indian poem and sacred text, into contemporary, accessible English, and have succeeded beautifully, creating an intriguing narrative poem whose structure reflects the complexities and rhythms of the original.

— Edith Grossman

A new translation of one of the fundamental poems and wisdom books in world literature by a poet and translator of Charles Martin's resources and a Hinduist of the eminence of Gavin Flood is a huge gift. The Bhagavad Gita, the Song of the Lord, has burned itself into the world's brain for two millennia or more. This translation should rekindle that flame.

— Robert Hass, University of California, Berkeley

This fresh translation of The Bhagavad Gita is a rare event in world literature. It is truly a fruitful collaboration between a scholar and a poet that brings an ancient Sanskrit classic alive. Meticulous and imaginative at once, it will be savored by old and new readers everywhere.

— Vinay Dharwadker, University of Wisconsin-Madison