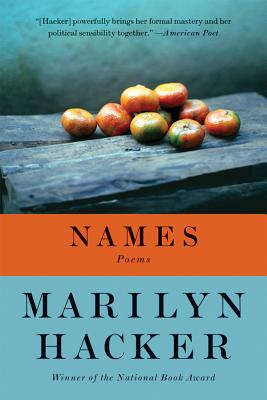 Unavailable, our apologies.
Sorry, We Can Not Obtain this Book at This Time
Description
---
"[Hacker] powerfully brings her formal mastery and her political sensibility together."—American Poet
In
Names
, Marilyn Hacker juxtaposes glimpses of contemporary lives with dialogues undertaken in signal poetic voices. Using her signature wit, passion, and mastery of received and invented forms, she convinces us to believe in a world made possible by language—prescient, playful, polyglot, and often breathtaking.
from "Ghazal: The Beloved":
Lines that grapple doubt, written because of the beloved:

when grief subsides, what survives the loss of the beloved?



Your every declaration is suspect.

That was, at least, the departing gloss of the beloved.



Were you merely a servant of the state

or (now you give the coin a toss) of the beloved?



How pure you were, resistant in an orchard.

Peace with justice: the cause of the beloved.
About the Author
---
Marilyn Hacker is the recipient of the National Book Award, the PEN Award for Poetry in Translation, the Robert Fagles Translation Prize, and the PEN/Voelcker Award for Poetry. Her collection Winter Numbers received a Lambda Literary Award and the Lenore Marshall Award of the Academy of American Poets. She lives in Paris, France.
Praise For…
---
Hacker will be remembered for her instinct to balance what's fraught with what's reassuring. Hence her nimble, graceful yoking of war, exile, and the persistence of human hatred with our desire to see sunrise and sunset, to tear a bite of bread from the loaf.
— Marilyn Krysl - Women's Review of Books