Wayward Lives, Beautiful Experiments: Intimate Histories of Social Upheaval (Hardcover)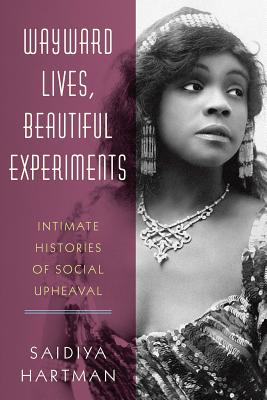 Unavailable, our apologies.
Staff Reviews
---
*** Due to increased demand, this title is on backorder and may arrive slower than usual. ***
The characters in Wayward Lives, Beautiful Experiments are rarely written about.  For the most part stories about women of color born into poverty are lost or erased, they survive only as names in the ledgers of correctional facilities, or a point of evidence in some sociologist's dissection of a social problem. Hartman's book is an in-depth study of just these kinds of girls, women who were part of the great migration to the north after Emancipation, girls who ended up in riots, or a chorus line, instead of a home or a steady job. Because there's so little concrete evidence about these women, Hartman's book is part fiction, part history, filled with exquisite descriptions of heartbreak and lost virginities and long nights, of the smell of summer in Harlem and the screech of voices on the Atlantic City boardwalk. This is history told as fiction because it is, in part, the only way it can be recovered, and I promise you it will be one of the most astonishingly beautiful books you have ever read.
— Madeleine
Description
---
A breathtaking exploration of the lives of young black women in the early twentieth century.
In Wayward Lives, Beautiful Experiments, Saidiya Hartman examines the revolution of black intimate life that unfolded in Philadelphia and New York at the beginning of the twentieth century. Free love, common-law and transient marriages, serial partners, cohabitation outside of wedlock, queer relations, and single motherhood were among the sweeping changes that altered the character of everyday life and challenged traditional Victorian beliefs about courtship, love, and marriage. Hartman narrates the story of this radical social transformation against the grain of the prevailing century-old argument about the crisis of the black family.
In wrestling with the question of what a free life is, many young black women created forms of intimacy and kinship that were indifferent to the dictates of respectability and outside the bounds of law. They cleaved to and cast off lovers, exchanged sex to subsist, and revised the meaning of marriage. Longing and desire fueled their experiments in how to live. They refused to labor like slaves or to accept degrading conditions of work.
Beautifully written and deeply researched, Wayward Lives recreates the experience of young urban black women who desired an existence qualitatively different than the one that had been scripted for them—domestic service, second-class citizenship, and respectable poverty—and whose intimate revolution was apprehended as crime and pathology. For the first time, young black women are credited with shaping a cultural movement that transformed the urban landscape. Through a melding of history and literary imagination, Wayward Lives recovers their radical aspirations and insurgent desires.
About the Author
---
Saidiya Hartman is the author of Wayward Lives, Beautiful Experiments, Lose Your Mother: A Journey Along the Atlantic Slave Route and Scenes of Subjection. A MacArthur "Genius" Fellow, she has been a Guggenheim Fellow, Cullman Fellow, and Fulbright Scholar. She is a professor at Columbia University and lives in New York.
Praise For…
---
Exhilarating....A rich resurrection of a forgotten history....[Hartman's] rigor and restraint give her writing its distinctive electricity and tension....This kind of beautiful, immersive narration exists for its own sake but it also counteracts the most common depictions of black urban life from this time.
— Parul Sehgal

I was inspired, surprised and deeply moved....[Hartman's] mode is intimate, radical and always alive to the details.
— Leslie Jamison

Revelatory....The book's broad sweep, and its nimble pivoting among a range of scales and perspectives, make room for anonymous loiterers and recalcitrant inmates alongside fleeting stars and the more enduringly famous....Wayward Lives is thrilling to read because it invents a genre as deft and adventurous as the lives it chronicles.

— Sam Huber

Kaleidoscopic....In granting these forgotten women a voice, and conjuring their longing for freedom, Hartman resists the century-long diminution of their lives to social problems....The result is an effect more usually associated with fiction than history, of inspiring a powerful imaginative empathy—not only towards characters in the distant past but towards the strangers all around us, whose humanity we share.
— Joanna Scutts

Genre-bending literary history....These are dishy, illuminating, and heartbreaking stories about the knotted relationship between desire and freedom.
— Kat Stoeffel

Brilliant....A virtuosic work of scholarship that recovers fragments of the lives of women who were supposed to be forgotten. As a result of her formidable research, stunning erudition, translucent prose and bold imagination, Saidiya Hartman reanimates their lives. Readers will not be able to forget them. They will also learn much about the social forces that enabled and constrained their struggle to live in beauty and freedom.
— Cheryl A. Wall

A radical, genre-defying examination of the lives of 'ordinary' young Black women....As is redolent of all Hartman's work, Wayward Lives, Beautiful Experiments offers a blistering critique of historical archives as the singular or even most authoritative source of credible knowledge....[She] implores us to pause and consider who is inside of and outside of the archive; whose voice is heard and whose voice is silenced; whose lives matter and whose lives to not.

— Keeanga-Yamahtta Taylor

A profound and painstaking act of reconstruction that renews our understanding of an era now largely faded from public memory....A bravely wayward, unflinchingly hybrid book, perhaps best described as halfway between the novel and documentary history, but more than anything else it leaves me curious about where Saidiya Hartman's thinking will take us next.
— Jess Row

Ambitious, original…a beautiful experiment in its own right.
— Maggie Nelson, author of The Argonauts

A startling, dazzling act of resurrection…Hartman has granted these forgotten, 'wayward' women a new life…[She] challenges us to see, finally, who they really were: beautiful, complex, and multidimensional—whole people—who dared to live by their own rules, somehow making a way out of no way at all.
— Michelle Alexander, author of The New Jim Crow