The City of Devi: A Novel (Hardcover)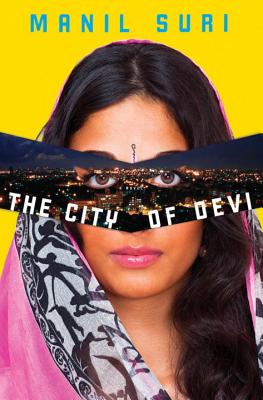 $26.95
In Stock at Publisher - Available to Ship to Your Home
Description
---
A dazzling, multilayered novel that not only encompasses a searing love story but, with its epic reach, encapsulates the fate of the world.
Mumbai has emptied under the threat of imminent nuclear annihilation; gangs of marauding Hindu and Muslim thugs rove the desolate streets; yet Sarita can think of only one thing: buying the last pomegranate that remains in perhaps the entire city. She is convinced that the fruit holds the key to reuniting her with her physicist husband, Karun, who has been mysteriously missing for more than a fortnight.
Searching for his own lover in the midst of this turmoil is Jaz—cocky, handsome, and glib. "The Jazter," as he calls himself, is Muslim, but his true religion has steadfastly been sex with men. Dodging danger at every step, both he and Sarita are inexorably drawn to Devi ma, the patron goddess who has reputedly appeared in person to save her city. What they find will alter their lives more fundamentally than any apocalypse to come.
A wickedly comedic and fearlessly provocative portrayal of individuals balancing on the sharp edge of fate, The City of Devi brilliantly upends assumptions of politics, religion, and sex, and offers a terrifying yet exuberant glimpse of the end of the world.
About the Author
---
Manil Suri is the best-selling author of The Death of Vishnu, a finalist for the PEN/Faulkner Award, The Age of Shiva, and The City of Devi. A native of Mumbai, he is a professor of mathematics at the University of Maryland, Baltimore County.
Praise For…
---
The best sex comedy of the year about nuclear war between India and Pakistan...Even amid the wondrous variety of contemporary Indian fiction, Suri's work stands apart, mingling comedy and death, eroticism and politics, godhood and Bollywood like no one else.
— Ron Charles

The City of Devi combines, in a magician's feat, the thrill of Bollywood with the pull of a thriller. Set in a city at the brink of the end, this is a fiercely imagined story of three souls haunted by a love that will change their most elemental ideas of identity. Manil Suri's bravest and most passionate book.

— Kiran Desai

The City of Devi is so exuberant and sexy, one may wish to purchase a prophylactic alongside it. When the world comes to an end, I will spend my last days in Mumbai clutching a copy of Manil Suri's dazzling epic.

— Gary Shteyngart, author of Super Sad True Love Story and Absurdistan

With comedic flashes and a plot that pulses forward, Suri's tale solidifies the reputation he earned as a master storyteller with The Death of Vishnu and The Age of Shiva. Layered with themes that draw on Hindu mythology, this new work is equal parts near-apocalyptic drama and heartfelt Bollywood-esque love story.

— Rupinder Gill

Even amid the wondrous variety of contemporary Indian fiction, Suri's work stands apart, mingling comedy and death, eroticism and politics, godhood and Bollywood like no one else.
— Ron Charles

Suri's prose is reason enough to pick up the book, but what ultimately makes the reader turn the pages is the intertwined destinies of the three characters. In the end, love is all that matters, Suri seems to be saying.
— Bharti Kirchner
Coverage from NPR