The Pomegranate Lady and Her Sons: Selected Stories (Hardcover)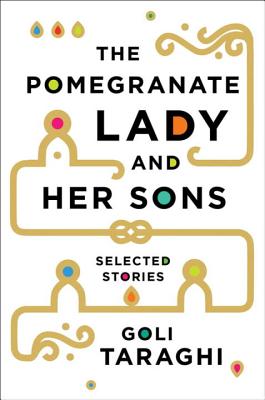 Unavailable, our apologies.
Description
---
"Filled with passion, curiosity, empathy, as well as mischief—definitely mischief."—Azar Nafisi
Rich in characters both whimsical and deeply poignant, humorous and real, the stories of Goli Taraghi have made her one of the world's most beloved contemporary writers from Iran. A best-selling author in her native country and widely anthologized in the United States and around the world, Taraghi's work is now made fully accessible to an English-speaking audience in this standout and long-awaited volume of selected stories, selected as a Best Book of 2013 by staff and critics at National Public Radio.
Drawing on childhood experiences in Tehran during the reign of the Shah, her exile in Paris, and her subsequent visits to Tehran after the revolution, Taraghi develops characters and tales that linger in one's mind. In the title story, a woman traveling from Tehran to Paris is obliged to help an old woman—the Pomegranate Lady—find her way to her fugitive sons in Sweden. In "The Gentleman Thief," a new kind of polite, apologetic thief emerges from the wreckage of the revolution. In "Encounter," a woman's world is upended when her former maid becomes her jailer. And in "The Flowers of Shiraz," a group of teenagers finally manages to coax a shy schoolmate out of her shell—only to once again encounter tragedy.
Reminiscent of the work of Nadine Gordimer and Eudora Welty, Taraghi's stories capture universal experiences of love, loss, alienation, and belonging—all with an irresistible sense of life's absurdities.
About the Author
---
Goli Taraghi was born in Tehran in 1939. She has been honored as a Chevalier des Arts et des Lettres in France, and her work has been widely anthologized, including in Reza Aslan's Tablet and Pen. She lives in Paris.

Sara Khalili's translations include Censoring an Iranian Love Story by Shahriar Mandanipour, The Book of Fate by Parinoush Saniee, and Kissing the Sword: A Prison Memoir by Shahrnush Parsipur. She lives in New York.
Praise For…
---
What an exciting new entrée Goli Taraghi brings to what I think of as the sumptuous banquet of contemporary fiction. The stories open like gates onto whole cities, exotic states of being, and you live in them as you live in good novels; they carry that kind of reach, that kind of emotional range. Characters reveal their entire being in a few sentences, and you end up worrying about them in that delicious way we worry about the people in our best stories. I will not soon forget the Pomegranate Lady and her sons, nor will you.
— Richard Bausch

Clean sentences and unembellished plots provide the framework for rich, layered, and haunting worlds…. The thread through each engaging tale is the quest for dignity, particularly as it relates to comfort and home, and the unavoidable awkwardness of exile.
— Booklist

An Iranian writer prized internationally and among fellow writers of fiction deserves a wider American readership for this rich, provocative collection of stories.
— Kirkus Reviews, Starred Review

Taraghi carves out space for mysterious forces … in her stories.
— Mythili Rao - The Daily Beast
Coverage from NPR