The Pirate Pig (Hardcover)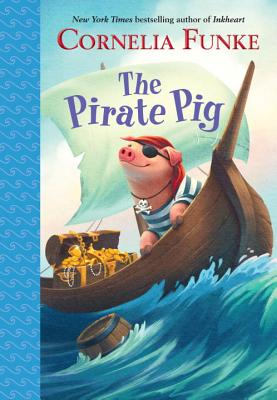 Staff Reviews
---
The Pirate Pig is a sweet little book about a couple named Stout Sam and Pip who find a pig washed up on their little island and name her Julie. But Julie is no ordinary pig - she is a pirate pig (wearing a gold pirate medallion, obviously) who can't swim but can sniff out treasure on the open ocean. With Julie in high demand, Stout Sam and Pip risk it all to save their beloved pig in this thrilling adventure on the high seas you won't want to put down.
— Kathryn
Description
---
The beloved and bestselling author of Inkheart brings imagination, adventure, and humor to a swashbuckling full-color chapter book!
 
Who needs a treasure map when you have a pirate pig with a nose for gold? Stout Sam and his deckhand, Pip, find a pig washed up in a barrel on the beach. They want to keep her as a pet, but they soon realize Julie is no ordinary pig. She can sniff out treasure! What happens if Barracuda Bill, the greediest and meanest pirate who ever sailed the seas, hears about Julie's special talent?
 
Cornelia Funke's charming and fun chapter books are available to an American audience for the very first time.
About the Author
---
Hailed as the J. K. Rowling of Germany, beloved and bestselling author CORNELIA FUNKE has written numerous magical novels and chapter books for children. Her New York Times bestsellers include The Thief Lord, Dragon Rider, and Inkheart. She was once named one of the 100 most influential people by Time magazine. She was born in Germany and lives with her family in California.