A Map to the Door of No Return: Notes to Belonging (Paperback)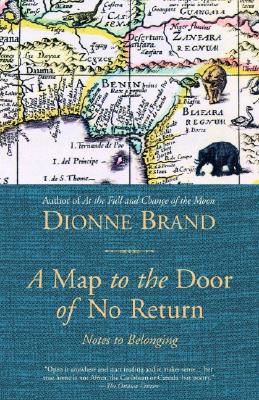 Description
---
A Map to the Door of No Return is a timely book that explores the relevance and nature of identity and belonging in a culturally diverse and rapidly changing world. It is an insightful, sensitive and poetic book of discovery.

Drawing on cartography, travels, narratives of childhood in the Caribbean, journeys across the Canadian landscape, African ancestry, histories, politics, philosophies and literature, Dionne Brand sketches the shifting borders of home and nation, the connection to place in Canada and the world beyond.

The title, A Map to the Door of No Return, refers to both a place in imagination and a point in history -- the Middle Passage. The quest for identity and place has profound meaning and resonance in an age of heterogenous identities.

In this exquisitely written and thought-provoking new work, Dionne Brand creates a map of her own art.
About the Author
---
Dionne Brand won the 1997 Governor General's Award for Poetry and the Trillium Award for Land to Light On. Her novel In Another Place, Not Here was a finalist for the Chapters/Books in Canada First Novel Award and the Trillium Award. She lives in Toronto.
Praise For…
---
"Open it anywhere and start reading and it makes sense…. her true home is not Africa, the Caribbean or Canada, but poetry." -- Ottawa Citizen

"Moving and evocative…. Brand's examination of her own personal odyssey is fascinating." -- The Edmonton Journal

"Brand's is a voice both brave and beautiful." -- NOW

"Dionne Brand -- exults in the power of language and deploys it to lure us from harsh reality to metaphysical heights -- [her] prose, so close to poetry, [is] almost musical." -- National Post

"Brand has two gifts that are incendiary in combination: a concise and intelligent grasp of the subtleties of emotion and an apparently effortless facility with the language. The result is an extraordinary ability to capture the flicker of experience." -- The Globe and Mail

"Brand's prose pays sharp attention to detail, with sensual, often playful descriptions. She injects a rhythm into her language and creates characters who burst with colour. This is a delicately structured, beautifully written novel, infused with rare emotional clarity." -- The Independent, UK

"At The Full and Change of the Moon is a hypnotically compelling, magical set of tales -- an unsettling and beautifully written novel." -- Los Angeles Times, A Best Book of 1999