Black No More: A Novel (Paperback)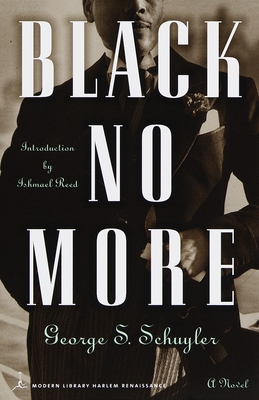 Staff Reviews
---
In this book, Jim Crow/American/human society is posited as a matrix of self-seeking, for which conflict is a source of sustenance rather than a malignancy awaiting a cure. A crafty weaving of absurdified archetypes and scrupleless schemes, Schuyler's satire bypasses any expected righteousness in favor of exuberantly-scathing romp.
— Bailey
Description
---
Modern Library Harlem Renaissance

What would happen to the race problem in America if black people turned white? Would everybody be happy? These questions and more are answered hilariously in Black No More, George S. Schuyler's satiric romp. Black No More is the story of Max Disher, a dapper black rogue of an insurance man who, through a scientific transformation process, becomes Matthew Fisher, a white man. Matt dreams up a scam that allows him to become the leader of the Knights of Nordica, a white supremacist group, as well as to marry the white woman who rejected him when he was black. Black No More is a hysterical exploration of race and all its self-serving definitions. If you can't beat them, turn into them.
        Ishmael Reed, one of today's top black satirists and the author of Mumbo Jumbo and Japanese by Spring, provides a spirited Introduction.

The fertile artistic period now known as the Harlem Renaissance (1920- 1930) gave birth to many of the world-renowned masters of black literature and is the model for today's renaissance of black writers.
About the Author
---
George S. Schuyler was born in 1895 in Providence, Rhode Island, and raised in Syracuse, New York. As a result of his writings in magazines, including Crisis and Opportunity, he came to the attention of H. L. Mencken, who became his mentor. He died in 1977 in New York City. Ishmael Reed, the recipient of a MacArthur Grant, is the prolific author of many volumes of fiction, poetry, and essays. He lives in Oakland, California.
Praise For…
---
"One of the great new veins of Negro fiction has been opened by this book--may its tribe increase."--Alain Locke