Chasing the Sea: Lost Among the Ghosts of Empire in Central Asia (Vintage Departures) (Paperback)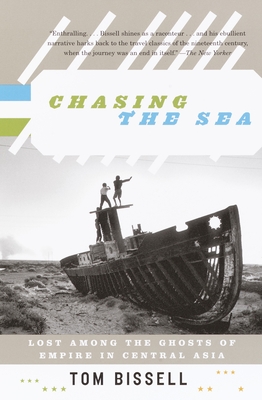 Description
---
In 1996, Tom Bissell went to Uzbekistan as a na•ve Peace Corps volunteer. Though he lasted only a few months before illness and personal crisis forced him home, Bissell found himself entranced by this remote land. Five years later he returned to explore the shrinking Aral Sea, destroyed by Soviet irrigation policies. Joining up with an exuberant translator named Rustam, Bissell slips more than once through the clutches of the Uzbek police as he makes his often wild way to the devastated sea.

In Chasing the Sea, Bissell combines the story of his travels with a beguiling chronicle of Uzbekistan's striking culture and long history of violent subjugation by despots from Jenghiz Khan to Joseph Stalin. Alternately amusing and sobering, this is a gripping portrait of a fascinating place, and the debut of a singularly gifted young writer.
About the Author
---
Tom Bissell was born in Escanaba, Michigan, in 1974. After his stint in the Peace Corps he worked for several years in book publishing in New York City. His criticism, fiction, and journalism have appeared in publications including Harper's Magazine, The Virginia Quarterly Review, GQ, Granta, McSweeney's, The Boston Review, The Believer, Best American Travel Writing 2003, and other publications. He has been nominated for several awards and not received any of them. He lives in New York City.
Praise For…
---
"Enthralling. . . . Bissell shines as a raconteur . . . and his ebullient narrative harks back to the travel classics of the nineteenth century, when the journey was an end in itself." –The New Yorker

"A hilarious and insightful misadventure in the post-Soviet bureaucratic badlands . . . fill[ed] with Kafkaesque settings and fearsome characters. . . . Bissell is a born raconteur but he is also a prodigious scholar, uncoiling the tangled history, ancient and modern, of this crossroads society in bright, taut cords." --The Washington Post Book World

"Written with such panache and laden with so much information that it rises to real seriousness . . . moves along as deftly as a novel . . . [A] combination of crack-up wit, wild ambition and preposterous youth." –The New York Times Book Review

"A geographically and intellectually adventurous memoir. . . . A wildly talented writer." --Outside

"Bissell seamlessly weaves in historical insights and cultural references, making his tale a well-rounded snapshot. . .. A fine and elaborate mosaic." --The Economist

"An astonishing book. Both hilarious and deeply disturbing, it's a crash course in the history, ecology, and politics of a region that seems as remote–and as desolate–as one of the lesser moons of Saturn." –San Diego Union-Tribune

"Fantastic . . . Bissell proves at the age of 29 he is a maestro of the genre. Read this book and it will be difficult to imagine not traipsing after him wherever he may go in the future." –Austin American-Statesman

"The narrative is propelled by a strong literary sensibility and Bissell's droll, self-deprecating humor. . . . A splendid debut." –Boston Globe

"If you don't think you want to red a novel about Uzbekistan, think again. Line by line, Chasing the Sea is as smart and funny and entertaining a travel book as you'll find anywhere: and behind the lines are real passion and a wholly justified outrage over one of the world's greatest political and environmental catastrophes. Tom Bissell is a terrifically sympathetic young writer. Give yourself a treat and read him." –Jonathan Franzen

"[Bissell] is an adept tale-teller, and Chasing the Sea is a treasure box of history, folklore, social criticism and digressions on politics and economics." –Newsday

"Bissell offers a sensitive and erudite picture of this fascinating country, ambitiously engaging a broad sweep of history that encompasses Genghis Khan in the 13th century, Timur in the 14th century, and the Soviet and post-Soviet eras. . . . Achieves an engaging honesty." –The Far East Economic Review

"A bravura exploration of the Aral Sea's dusty remains." –Men's Journal

"Arresting . . .anything but dry history. . . . Bissell proves himself an apt ecologist, memoirist and historian, bringing readers on a memorable, and even joyous, ride." –The Journal News

"A subtly amusing narrative. . . . Bissell is young; his first book proclaims that he's a writer to watch."–National Geographic Adventure

"I've earmarked nearly every page of this extraordinary travelogue, drawn back again and again to savor the dervish spin of Tom Bissell's prose.... Can Chasing the Sea truly be Bissell's first book?" –Bob Shacochis

"A beguiling debut." –Esquire

"A literate, elegiac account of travels in the outback of Uzbekistan, tracing the origins and consequences of one of the world's most devastating ecological disasters. First-rate in every regard: to be put alongside such classics on the region as Through Khiva to Golden Samarkand and The Road to Oxiana." –Kirkus Reviews (starred)

"Fluent and lively prose. . . . Bissell is observant, funny, intelligent, and a vigorous writer. . . . But Mr. Bissell doesn't write as an expert or a historian; he calls himself an 'adventure journalist,' and in Chasing the Sea he has brought back an adventure worth sharing ." –The New York Sun

"Tom Bissell's book is bittersweet and hurts in the way that exceptional writing should.... Shockingly thoughtful and informed.... There are moments in which one cannot help but laugh aloud. . . . This book is not to be missed." –Peace Corps Writers

"The humor and poignancy in this blend of memoir, reportage and history mark the author as a front-runner in the next generation of travel writers." —Publishers Weekly

"An intriguing look at a region that has long been under the heel of tyrants, from Genghis Khan to Joseph Stalin. . . . A marvelous book that reads like an adventure novel." –Toronto Sun

"Startlingly clever . . . Bissell pulls his reader into the world of Uzbekistan and never completely lets go. In the end, we are left feeling the persistent tug of a tell-tale phantom limb." –Daily Michigan

"The book could have been marketed as Nick Hornby Goes to Hell. . . . This is painful stuff, but brilliantly captured." —The Eye (Toronto)

"[Bissell] displays an impressive knowledge of the history of the region . . . Brilliantly written and incisive." –Richmond Times-Dispatch

"An ambitious work. . . . An informed, subtle, and humorous take on a country that for decades has been relegated to the back pages of history." –The Moscow Times