Looking for Poetry: Poems by Carlos Drummond de Andrade and Rafael Alberti and Songs from the Quechua (Paperback)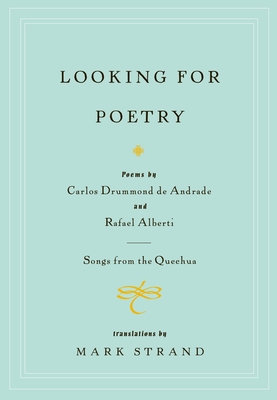 Unavailable, our apologies.
Sorry, We Can Not Obtain this Book at This Time
Description
---
A uniquely appealing collection that reflects the variety and richness of South American poetry.

Carlos Drummond de Andrade, a native-born Brazilian, is universally recognized as the finest and most accessible modern Portugese-language poet and, along with Pablo Neruda, a poet of the common man, writing of home, family, friends, and love.

Rafael Alberti--an elegist primarily--came to Argentina (where he wrote many of his poems) in exile from Spain during the Spanish Civil War. The effects of that experience wind through the poet's work in poems about the survival of the spirit in the face of personal and political tragedy.

Looking for Poetry also contains the simple and haunting poems of the Quechua Indians.
About the Author
---
Mark Strand is the author of nine books of poems, including Blizzard of One, winner of the 1998 Pulitzer Prize. He was the Poet Laureate of the United States in 1990, and currently teaches at the Committee on Social Thought at the University of Chicago. He lives in Chicago.