Maximum City: Bombay Lost and Found (Hardcover)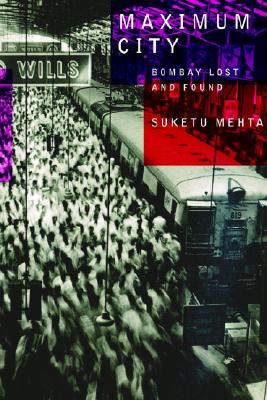 Unavailable, our apologies.
Sorry, We Can Not Obtain this Book at This Time
Description
---
A brilliantly illuminating portrait of Bombay and its people–a book as vast, diverse, and rich in experience, incident, and sensation as the city itself–from an award-winning Indian-American fiction writer and journalist.

A native of Bombay, Suketu Mehta gives us a true insider's view of this stunning city, bringing to his account a rare level of insight, detail, and intimacy. He approaches the city from unexpected angles–taking us into the criminal underworld of rival Muslim and Hindu gangs who wrest control of the city's byzantine political and commercial systems . . . following the life of a bar dancer who chose the only life available to her after a childhood of poverty and abuse . . . opening the doors onto the fantastic, hierarchical inner sanctums of Bollywood . . . delving into the stories of the countless people who come from the villages in search of a better life and end up living on the sidewalks–the essential saga of a great city endlessly played out.

Through it all–as each individual story unfolds–we hear Mehta's own story: of the mixture of love, frustration, fascination, and intense identification he feels for and with Bombay, as he tries to find home again after twenty-one years abroad. And he makes clear that Bombay–the world's largest city–is a harbinger of the vast megalopolises that will redefine the very idea of "the city" in the near future.

Candid, impassioned, funny, and heartrending, Maximum City is a revelation of an ancient and ever-changing world.
Praise For…
---
"Stunning . . . the account–fierce, engaged, coruscating–of a curious outsider who became, for two years, an intimate insider . . . [Mehta] explores the underside of the city with the inquisitiveness of a voyeur, the sensibility of a poet and the zeal of a private investigator. Mehta is none of those things and yet, like the best writers, he is all of them."
–Shashi Tharoor, Los Angeles Times Book Review

"Mehta is an urban ethnographer with an acute sensitivity to the peculiarities of his city . . . This fidelity to his interlocutors, and to their detail and circumstance, as much as the intelligence and brightness of Mehta's own prose, makes Maximum City an extraordinary debut–a debut that will rival Arundhati Roy's in fiction."
–The Nation

"In Maximum City, Suketu Mehta has given us a brilliant book. He writes fearlessly about the horror and wonder that is Bombay. One by one, he reveals its multiple personalities: maleficent Bombay, bountiful Bombay, beckoning temptress of hope, manufacturer of despair–city of dreams and nightmare city. Best of all, reading this book helps one understand why Bombay can be an addiction."
–Rohinton Mistry, author of Family Matters and A Fine Balance

"Mehta writes with a Victorian novelist's genius for character, detail, and incident, but his voice is utterly modern. Like its subject, this is a sprawling banquet of a book, one of the most intimate and moving portraits of a place I have read."
–Jhumpa Lahiri, author of The Namesake and Interpreter of Maladies

"Quite extraordinary–Mehta writes about Bombay with an unsparing ferocity born of his love, which I share, for the old pre-Mumbai city which has now been almost destroyed by corruption, gangsterism and neo-fascist politics, its spirit surviving in tiny moments and images which he seizes upon as proof of the survival of hope. The quality of his investigative reportage, the skill with which he persuades hoodlums and murderers to open up to him, is quite amazing. It's the best book yet written about that great, ruined metropolis, my city as well as his, and it deserves to be very widely read."
–Salman Rushdie, author of Midnight's Childern and The Moor's Last Sigh

"[Mehta's] sophisticated voice conveys postmodern Bombay with a carefully calibrated balance of wit and outrage, harking back to such great Victorian urban chroniclers as Dickens and Mayhew."
–Publishers Weekly (starred review)

"In his new book, Suketu Mehta writes an epic biography of his childhood city, and it's as luscious as a cold mango lassi on a sweltering day . . . Through his fluid writing, he establishes the culture and modern history of a city torn by Hindu-Muslim strife, but where culture and beauty still flourish . . . A vivid and textured portrait of Bombay."
–New York Post

"The passions and secrets of the throbbing megalopolis come alive as Suketu Mehta steps into its back alleys and dance bars, its fantasy factories and drawing rooms . . . Every city has its chronicler . . . now Bombay gets its Boswell, his chronicle as sprawling and enchanting as his subject."
–India Today

"Brilliant . . . Mehta is unusually well positioned to diagnose the "multiple-personality disorder," both charming and horrifying, of India's most crowded city."
–Nell Freudenberger, Vogue

"Rich with insight and unfailingly well-written."
–Kirkus

"Suketu Mehta has done the impossible: he has captured the city of Bombay on the page, and done it in technicolor. Like Zola's Paris and the London of Dickens, it will be difficult for me to visit Bombay without thinking of Maximum City and the enormous delight I had when I inhabited its pages."
–Abraham Verghese, author of My Own Country and The Tennis Partner

"Along with V.S. Naipaul's India: A Million Mutinies Now, Maximum City is probably the greatest non-fiction book written about India."
–Akhil Sharma, author of An Obedient Father

"Maximum City is the remarkable debut of a major new Indian writer. Humane and moving, sympathetic but outspoken, it's a shocking and sometimes heartbreaking book, teeming with extraordinary stories. It is unquestionably one of the most memorable non-fiction books to come out of India for many years, and there is little question that it will become the classic study of Bombay."
–William Dalrymple, author of White Mughals and In Xanadu

"Like one of Bombay's teeming chawls, Maximum City is part nightmare and part millennial hallucination, filled with detail, drama and a richly varied cast of characters. In his quest to plumb both the grimy depths and radiant heights of the continent that is Bombay, Suketu Mehta has taken travel writing to an entirely new level. This is a gripping, compellingly readable account of a love affair with a city: I couldn't put it down."
–Amitav Ghosh, author of In an Antique Land and The Glass Palace

"Brave, honest, and addictive: Maximum City is narrative non-fiction at its best. Mehta de-exoticizes as he mesmerizes, finding humanity in killers, actresses, and civil servants, and leading us inexorably to the sight of our our own reflections in the fractured mirror of his great city, Bombay."
–Mohsin Hamid, author of Moth Smoke