My Struggle: Book 1 (Paperback)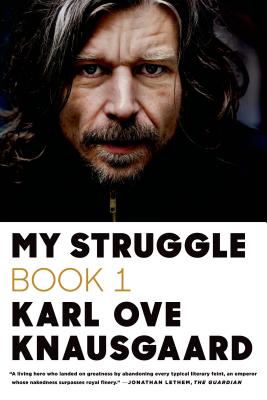 Other Books in Series
This is book number 1 in the My Struggle series.
Staff Reviews
---
Painfully, brilliantly, relentlessly intimate and raw. In "My Struggle," Norwegian writer Karl Ove Knausgaard's first-person narrator, named Karl Ove Knausgaard, becomes his own subject as he writes about his life as a writer named Karl Ove Knausgaard who's writing about his life as a writer named Karl Ove Knausgaard, mis en absme. Sometimes compared to "In Search of Lost Time" (an inspiration for the author and narrator), "My Struggle" is an addictive, dazzling mélange of fact and fiction, art about art, time passing as time passes, and Knausgaard's narrator amasses the stuffing of Life: where, when, how and why he did what with whom; what he sees, thinks, and feels; self-doubt, self-delusion, obsessions, fears, regrets, shame, philosophical enquiries, the gnawing ubiquity of death; resurrecting the passion of youth, the reek of piss, and the stunning, crushing beauty of it all.
— Yvonne
A world to be inhabited, ingested, injected directly into the vein. If atmosphere were made material and then made textual and then laid down on several hundred pages consecutively, it would be "My Struggle." And I will say this: I never care very much about plot, but I understand that people often do. In this case, you won't, because from moment to moment, this story is going somewhere, even if it's not.
— Sarah G.
It's so sensitive and aware and beautiful that I want to read 6 more of it and plan to.
— Landon
I know what you're thinking: Why, in times like these, should I read this long-winded, navel-gazing so-called struggle of a straight, white man living in a super prosperous nation? But you should! Please do. Because Knausgaard's struggle isn't his but ours: the struggle to write, to raise children, to forgive an abusive parent, to find love, to keep love, to drink underage, to feel better than worthless, to find meaning under the suffocating specter of death. Far from elevating the particulars of his life, Knausgaard lays them bare in their utter banality and says "maybe this is enough." And he invites you, even implores you, to do the same. He knows that it is through, and not around, the specifics of one's life that we reach the universal experience of being human. Accordingly, My Struggle is a titanic achievement of attention, honesty, and empathy. Don't deny yourself its pleasures - even if, especially if, you think this it isn't "for" you.
— Maddie
Description
---
A New York Times bestseller, My Struggle: Book 1 introduces American readers to the audacious, addictive, and profoundly surprising international literary sensation that is the provocative and brilliant six-volume autobiographical novel by Karl Ove Knausgaard. It has already been anointed a Proustian masterpiece and is the rare work of dazzling literary originality that is intensely, irresistibly readable. Unafraid of the big issues—death, love, art, fear—and yet committed to the intimate details of life as it is lived, My Struggle is an essential work of contemporary literature.
About the Author
---
Karl Ove Knausgaard was born in Norway in 1968. My Struggle has won countless international literary awards and has been translated into at least fifteen languages. Knausgaard lives in Sweden with his wife and four children.

Don Bartlett has translated dozens of books of various genres, including several novels and short story collections by Jo Nesbø and It's Fine by Me by Per Petterson. He lives in Norfolk, England.
Praise For…
---
"Powerfully alive . . . Knausgaard is intense and utterly honest, unafraid to voice universal anxieties . . . He wants us to inhabit the ordinariness of life, which is sometimes visionary, sometimes banal, and sometimes momentous, but all of it perforce ordinary because it happens in the course of a life, and happens, in different forms, to everyone . . . There is something ceaselessly compelling about Knausgaard's book." —James Wood, The New Yorker (selected as one of the Books of the Year)

"A fantastic novel . . . I cannot say anything other than that I am looking forward desperately to the rest of it." —Dagsavisen (Norway)

"Knausgaard's thinking is magnificently unbridled." —Frankfurter Allgemeine Zeitung (germany)

"Between Proust and the woods . . . Like granite, precise and forceful. More real than reality." —La Repubblica (Italy)

"I can't stop, I want to stop, I can't stop, just one more page, then I will cook dinner, just one more page . . ." —Västerbottens-kuriren (Sweden)