One Thousand Nights and Counting: Selected Poems (Paperback)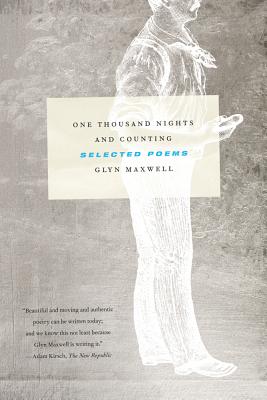 $17.00
Email or call for price.
Description
---
A Boston Globe Best Poetry Book of 2011
The poems of Glyn Maxwell possess a slow, quiet fire. They refrain from grand gestures, from loud proclamations of emotion. Instead, Maxwell unveils these emotions gently, quietly, intricately—like little postcards in a waxed envelope. Each of his poems is Blake's "world in a grain of sand." Maxwell's works reveal very little about their subjects; there are, rather, merely the faintest, well-chosen hints of quotidian life: a man kills a wasp; a man falls in and out of love; a man escapes from an unnamed pursuer. But from these suggestive fragments, it is possible to extrapolate an entire world.
The casual virtuosity that first brought Maxwell great renown is on show throughout the poems collected in One Thousand Nights and Counting. Lyrical or narrative, comic or contemplative, these are profound, resonant explorations of love and fatherhood, of triumph and longing. They will not soon be forgotten.
About the Author
---
Glyn Maxwell was born in 1962 in Welwyn Garden City, England. He is the author of several collections of poems, including Out of the Rain (1992), for which he received a Somerset Maugham Award; Rest for the Wicked (1995), which was short-listed for both the Whitbread Poetry Award and the T.S. Eliot Prize; and The Breakage (1998), which was short-listed for both the T.S. Eliot and the Forward Poetry (Best Poetry Collection of the Year) prizes. Maxwell lives in London.
Praise For…
---
"[Maxwell's] often surreal and opaque poems range across moods and subjects. The best moments occur when readers can lose themselves in the very long poems, in particular the inventive re-imagining of the story of Noah's Ark, 'Out of the Rain,' and the elegiac 'Letters to Edward Thomas,' in which the speaker waits for a friend who never arrives . . . Maxwell's poetry can be playful and inventive, beautiful and melancholic . . . Maxwell is one of the stars of poetry across the pond and a rising presence here; this book should win him new fans." —Publisher's Weekly
"Maxwell, a young and prolific Englishman, has authored nine volumes of poetry, nine plays (a tenth is in production), a libretto, a travelogue, and two works of fiction. He has received the Somerset Maugham Award, and he has been short-listed twice for the T. S. Eliot Prize. Americans will situate his poems at the confluence of two great streams: the formally inventive, dandyish Auden and the rusticated narratives of Frost. Maxwell is a sort of surrealist Aesop. The poems are written in a straightforward vocabulary but are never simple, like fairy tales. Biblical figures appear. The long sequence 'Out of the Rain' seems to recapitulate the Flood . . . 'Letters to Edward Thomas,' 'Tale of the Mayor's Son,' 'Stargazing,' 'Watching Over,' selections from 'Time's Fool,' 'Cassandra'--all excellent. Take this, from 'For My Daughter': 'The day you get the gist / Of what this is becoming you'll have missed / The point you were.'" —Michael Autrey, Booklist
"The most noticeable thing throughout this book is how incredibly musical Maxwell's work is: these poems come alive when they are read aloud . . . Maxwell has learnt from the likes of Frost, Auden and, at his best, Larkin. It enables the creation of a kind of spoken music, in which sound and sense and stress all harmonise, giving the poet a wide tonal palette with which to work . . . One Thousand Nights and Counting shows that, at his best, Maxwell is a poet of formidable technical gifts who revels in the sheer power of storytelling. This is a poet who knows as well as any how to make a human sound." —Adam Newey, The Guardian
"Glyn Maxwell is a poet of music; of the rhythm, the line, and the poem as spoken word. This is not only a point of pride for the writer but also the primary distinction of his work. Maxwell's technical prowess has been praised in major publications by the likes of William Logan, Adam Kirsch, and Langdon Hammer. He carries a charge passed down by his mentor Derek Walcott as well as Thom Gunn, Richard Wilbur, and Joseph Brodsky . . . One Thousand Nights and Counting, Maxwell's new edition of selected poems, reveals first and foremost the powerful music that guides his poetry. It also uncovers a singular obsession--which acts as the focus of and inspiration for most of Maxwell's poems--with the past." —Daniel Evans Pritchard, Idiom