Human Chain: Poems (Paperback)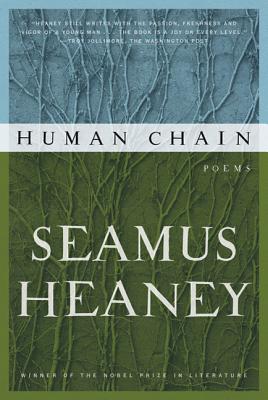 $15.00
Email or call for price.
Description
---
A Boston Globe Best Poetry Book of 2011
Winner of the 2011 Griffin Poetry Prize
Winner of the 2011 Poetry Now Award

Seamus Heaney's new collection elicits continuities and solidarities, between husband and wife, child and parent, then and now, inside an intently remembered present—the stepping stones of the day, the weight and heft of what is passed from hand to hand, lifted and lowered. Human Chain also broaches larger questions of transmission, of lifelines to the inherited past. There are newly minted versions of anonymous early Irish lyrics, poems that stand at the crossroads of oral and written, and other "hermit songs" that weigh equally in their balance the craft of scribe and the poet's early calling as scholar. A remarkable sequence entitled "Route 101" plots the descent into the underworld in the Aeneid against single moments in the arc of a life, from a 1950s childhood to the birth of a first grandchild. Other poems display a Virgilian pietas for the dead—friends, neighbors, family—that is yet wholly and movingly vernacular.

Human Chain also includes a poetic "herbal" adapted from the Breton poet Guillevic—lyrics as delicate as ferns, which puzzle briefly over the world of things and landscapes that exclude human speech, while affirming the interconnectedness of phenomena, as of a self-sufficiency in which we too are included
About the Author
---
Seamus Heaney (1939-2013) received the Nobel Prize in Literature in 1995. His poems, plays, translations, and essays include Opened Ground, Electric Light, Beowulf, The Spirit Level, District and Circle, and Finders Keepers. Robert Lowell praised Heaney as the "most important Irish poet since Yeats."
Praise For…
---
"In his Nobel lecture, Seamus Heaney commended the achievement of Yeats, whose 'work does what the necessary poetry does, which is to touch the base of our sympathetic nature while taking in at the same time the unsympathetic reality of the world to which that nature is constantly exposed.' It is a fair comment of what he himself has done." —Frank Kermode

"Nobel laureate Heaney is an earthy and mythic poet who channels the music and suffering of Ireland and, beyond that, the spiral of cultivation and destruction that sustains and endangers humankind. These are loamy, time-saturated poems, at once humble and exalted, taproots reaching into the underworld, flowers opening to the sun … Heaney puts faith in the actual, be it the wind, a kite, or an extended hand." —Donna Seaman, Booklist

"In these poems Mr. Heaney casts vigorously about through moments in his life, from childhood through restless middle age. The poems read less like nostalgia than the signs of a still-vital poet feeling along the walls of his own cranium, his own complicated history … [Heaney's] authority, in Human Chain, is undiminished." —Dwight Garner, The New York Times

"Heaney still writes with the passion, freshness and vigor of a young man … The book is a joy on every level." —Troy Jollimore, The Washington Post

"Heaney has achieved a hard-won clarity of vision. Here, he renders memories with crystalline precision as he distills and contemplates the accumulations of a life. The poems' luminous clarity, so free of excess and easy emotion, ought to prove once and for all that Heaney is no sentimentalist . . . These poems refuse outright consolation and offer, instead, a fleeting sense of connection between living and dead--the human chain of the book's title." —Heather Clark, Harvard Review

"This newest collection of poems by Seamus Heaney contains multiple poems that will certainly be included in any final selected poems; that alone makes the book worth reading. Poems such as 'The Baler' exhibit all the essential voicing and lean nuanced diction we associate with Heaney's middle period onward. Other poems continue the Heaney of palpable sonic texturing that we first experienced in poems like 'Death of a Naturalist' and 'Churning Day.' One striking poem in this book is 'Route 110,' which moves like elegy through memory and grief, with Virgil's Aeneid intermittently breaking in and hovering like a specter, a caution, a paradigm of the epic question of each human life. It is a remarkable poem that never feels didactic or 'learned' . . . This is a beautiful collection that demonstrates Heaney's continued poetic vitality." —Fred Dings, World Literature in Review