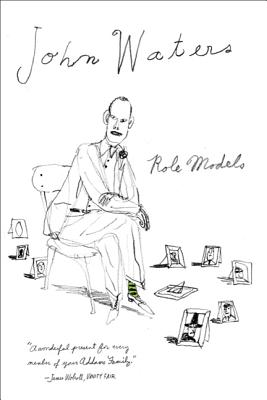 Staff Reviews
---
In this fittingly-titled memoir, Rei Kawakubo, Cy Twombly, Ivy Compton-Burnett, and Little Richard are only a few of the diverse figures the Pope of Trash counts among his patron saints, in addition to less public ones like a butch Baltimore stripper and a cult pornographer obsessed with off-duty marines. Role Models is both an illuminating glimpse into a veritable queer godfather as well as a primal tale of how queer identities, rather than coming ready-made, are much more akin to a coat of many colors - and just like Dolly, we're all the richer for it.
— Derek
Description
---
Here, from the incomparable John Waters, is a paean to the power of subversive inspiration that will delight, amuse, enrich—and happily horrify—readers everywhere.



Role Models is, in fact, a self-portrait told through intimate profiles of favorite personalities—some famous, some unknown, some criminal, some surprisingly middle of the road. From Esther Martin, owner of the scariest bar in Baltimore, to the playwright Tennessee Williams; from the atheist leader Madalyn Murray O'Hair to the insane martyr Saint Catherine of Siena; from the English novelist Denton Welch to the timelessly appealing singer Johnny Mathis—these are the extreme figures who helped the author form his own brand of neurotic happiness.



Role Models is a personal invitation into one of the most unique, perverse, and hilarious artistic minds of our time.
About the Author
---
John Waters is an American filmmaker, actor, writer, and visual artist best known for his cult films, including Hairspray, Pink Flamingos, and Cecil B. DeMented. He lives in Baltimore, Maryland.
Praise For…
---
"Waters is a greater National Treasure than 90 percent of the people who are given 'Kennedy Center Honors' each December. Unlike those gray eminences of the show-business establishment, Waters doesn't kowtow to the received wisdom, he flips it the bird . . . [Waters] has the ability to show humanity at its most ridiculous and make that funny rather than repellent. To quote his linear ancestor W.C. Fields: It's a gift." —Jonathan Yardley, The Washington Post

"His acolytes won't need a reviewer's say-so to lap up every word of "Role Models," . . . But dilettantes at liberty to skip around will find a lot to charm them. In a way, the best joke is that – Baader-Meinhof gang, outsider porn and all--Waters can't help revealing one very page that he's both sentimental and good-hearted. Pass the relish, Uncle John." —Tom Carson, New York Times Book Review

"If Waters began his career by seeking to infuriate, he now has mellowed to a place of gleeful tweaking. 'Role Models' is charming and chatty . . . it also reveals the making of a unique American artist through his influences. When he calls for people to make him a cult leader of filth --having left trash behind for becoming too acceptable--it's hard for any outsider not to want to follow along." —Carolyn Kellogg, Los Angeles Times

"Waters may not be a gloater, but there is a delightful lunatic glee that pulses through the book. It combusts in the final chapter, titled 'Cult Leader,' which exhorts readers to rise up against the 'tyranny of good taste,' wear their belts off center, and infiltrate living crèches. Happily, for all the reflective and tender moments, Waters never suppresses his radiant pervert self." —Liz Brown, Bookforum.com

"What is exhilarating about Waters is that he's not kidding, that he's the reporter, comedian and poet-in-chief of a fantasy cult which thinks 'there's only one way to die--spontaneous combustion. The unexplained phenomenon of being so guilty and happy, so obsessed, so driven and so fanatical that you just burst into flames for no apparent reason on the street.' He remains one of our most necessary fellow Americans." —Jeff Simon, The Buffalo News

"The collision of the eloquent and the profane is probably the best reason to read this quasimemoir-cum-how-to, aside from its deeper philosophy: judge not lest ye have the whole story, indulge your inner pervert (within reason), and read, for the love of Divine. Waters puts it another way: 'I believe in the opposite of original sin. I don't believe anybody is born guilty or evil.' Glory-hole-lujah. Amen." —Heather McCormack, Library Journal

"[Role Models is] an impressive, heartfelt collection by a true American iconoclast." —Kirkus Reviews (starred)

"Apart from its consistently engaging voice, both casual and eloquent . . . what makes Role Models more than just the latest expression of a great American oddball is its appearance at a time when nearly every segment of society (hipsters, meet Tea Partiers) feels justified in dehumanizing anyone they deem as the other. Waters never does that, even to the truly abhorrent. This man who never sought respectability may have become the most affectionate and radical humanist in American letters." —Charles Taylor, Barnes & Noble Review

"How did somebody from a quiet Baltimore neighborhood grow up to become the outlandish, brilliant, and insane John Waters? Two words: Johnny Mathis." —Augusten Burroughs, author of Running with Scissors

"A delirious descent into Waters World, Role Models is a true-life confessional from one of America's greatest ironists. John Waters is a man always ready and willing to say the unsayable. He is the dark mirror of contemporary culture. From haute couture to low culture, from literary outsiders to lapsed actors, he delivers razor-sharp pen portraits of the women and men who have perverted and inspired him by turns. And yet Waters's warped imagination is always humane, his judgments insightful. Role Models is as much a philosophical manifesto as it is an utterly hilarious and shamelessly entertaining read." —Philip Hoare, author of The Whale

"John Waters has a great gift for appreciation--whether for toothless lesbian strippers in Baltimore or the most rarefied painters and writers of our day. He is a dandy who has done away with everyone else's hierarchies and created a new world that conforms only to his own taste for trash and the sublime. He is frank, funny, and (strangely enough) both sensible and outrageous." —Edmund White, author of City Boy

"Waters is a greater National Treasure than 90 percent of the people who are given 'Kennedy Center Honors' each December. Unlike those gray eminences of the show-business establishment, Waters doesn't kowtow to the received wisdom, he flips it the bird . . . [Waters] has the ability to show humanity at its most ridiculous and make that funny rather than repellent. To quote his linear ancestor W.C. Fields: It's a gift." —Jonathan Yardley, The Washington Post

"His acolytes won't need a reviewer's say-so to lap up every word of "Role Models," . . . But dilettantes at liberty to skip around will find a lot to charm them. In a way, the best joke is that – Baader-Meinhof gang, outsider porn and all--Waters can't help revealing one very page that he's both sentimental and good-hearted. Pass the relish, Uncle John." —Tom Carson, New York Times Book Review

"If Waters began his career by seeking to infuriate, he now has mellowed to a place of gleeful tweaking. 'Role Models' is charming and chatty. . . it also reveals the making of a unique American artist through his influences. When he calls for people to make him a cult leader of filth --having left trash behind for becoming too acceptable--it's hard for any outsider not to want to follow along." —Carolyn Kellogg, Los Angeles Times

"The cult director's memoirs are always so witty and pleasurable that you want to read whole chapters aloud." —Details

"What Vasari is to the lives of the artists, what Burke is to the peerage, what the Social Register is to the elite, so is John Waters to the lunatic fringe. In Role Models, John Waters makes us gasp with admiration and joy at these defiant prime ribs of America's underbelly." —John Guare, author of Six Degrees of Separation
Coverage from NPR