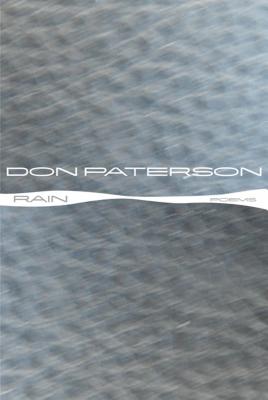 $13.00
Email or call for price.
Description
---
In this, his first volume of original verse since the award-winning Landing Light, Don Paterson is found writing at his most memorable and direct. In an assembly of masterful lyrics and monologues, he conjures a series of fables and charms that serve both to expose us to the unsettling forces within the world and to offer some protection against them. Whether outwardly elemental in their address or more personal in their direction, these poems—addressed to the rain and the sea, to his young sons or beloved friends—never shy from their inquiry into truth and lie, embracing everything in scope from the rangy narrative to the tiny renku. Rain, which includes the winner of this year's Forward Prize for the Best Individual Poem and an extended elegy for the poet Michael Donaghy, is Paterson's most intimate and manifest collection to date.
About the Author
---
Don Paterson has written several collections of poems, including Nil Nil, God's Gift to Women, The Eyes, Rain, and Landing Light, which won both the T. S. Eliot Prize and the Whitbread Prize for Poetry. He lives in Kirriemuir, Angus, Scotland.
Praise For…
---
"Rain is a truly important book, not only in the development of this must-read poet, but because it engages with the rough and tumble of life in a way we recognise as true. Read it now, before it becomes famous." —Fiona Sampson, The Independent
"The master of shadowplay demonstrates again that he remains clear-eyed about the representations he so artfully contrives." —Adam Newey, The Guardian
"Don Paterson's poetry collection Rain contains some great–and I do mean great–poems. He comes very close to Yeats at moments; Yeats without the hocus-pocus. First time through, I reread 'The Day' three times, just to confirm it was as astounding as I suspected." —Toby Litt, The New Statesman (Best Books of the Year)
"Paterson is simply one of the best living poets in the UK." —The Observer (England)
"The musical drive of the poems gives them an immense advantage in power; elements become lodged in the ear and hence in the memory.
Dealing as this book does, in its diverse meditations, with loss, guilt, anger, helplessness, and many of the other insalubrious emotions that are the lot of human beings, it seems only just that the final poem (and the title poem at that) should be a gesture aimed at washing away the aches of the past, much as Jehovah was said to have washed the sinful world clean with the flood. Rain, in this poem, is the atmospheric rain of a noir film. Such a film, Paterson says, can do no wrong, regardless of its possible errors of plot or scene or casting. Forget the spillages of our past: the ink, the milk, the blood. We are cleansed, but we are also 'the fallen rain's own sons and daughters / and none of this, none of this matters.' It is a sort of secular absolution, making the corrosive world briefly bearable, perhaps.
This is a poignant and remarkable book, worth a reader's thoughtful attention. A number of the poems included in it are, I feel sure, destined to last" —Jan Schreiber, Contemporary Poetry Review