On Grief and Reason: Essays (FSG Classics) (Paperback)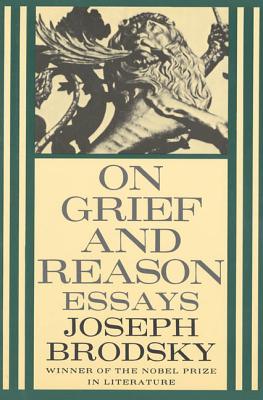 Unavailable, our apologies.
Description
---
Joseph Brodsky was a great contrarian and believed, against the received wisdom of our day, that good writing could survive translation. He was right, I think, though you had to wonder when you saw how badly his own work fared in English. But then perhaps the Russians hadn't expelled a great poet so much as exposed us to one of their virulent personality cults. Yet Brodsky's essays are interesting. Composed in a rather heroically determined English, clumsily phrased and idiomatically challenged, they are still inventive and alive. There are suggestive analyses of favorite poems by Hardy, Rilke, and Frost in this book, and a moving meditation on the figure of Marcus Aurelius. Though too often Brodsky goes on at self-indulgent length, he usually recaptures our attention with a characteristic aside: "The fact that we are livingdoes not mean we are not sick."
About the Author
---
Joseph Brodsky (1940-1996) came to the United States in 1972, an involuntary exile from the Soviet Union. He received the Nobel Prize in Literature in 1987 and served as Poet Laureate of the United States in 1991 and 1992.
Praise For…
---
"English. But then perhaps the Russians hadn't expelled a great poet so much as exposed us to one of their virulent personality cults. Yet Brodsky's essays are interesting. Composed in a rather heroically determined English, clumsily phrased and idiomatically challenged, they are still inventive and alive. There are suggestive analyses of favorite poems by Hardy, Rilke, and Frost in this book, and a moving meditation on the figure of Marcus Aurelius. Though too often Brodsky goes on at self-indulgent length, he usually recaptures our attention with a characteristic aside: 'The fact that we are livingdoes not mean we are not sick.'" —Boston Review

"Brodsky has the reputation of being one of the best essayists in the English language, and it doesn't take many pages of reading this new collection to realize why. Whether he's stepping back into his own history, as he does in ('If anybody profited from the war, it was us: its children. Apart from having survived it, we were richly provided with stuff to romanticize'), or giving a commencement address, as in In Praise of Boredom, a metaphysical litany of warning and assurance to a graduating class ('Everything that displays a pattern is pregnant with boredom'), Brodsky shows an extraordinary flair for language. His keen and passionate poet's mind often homes in on unexpected details, as in Alter Ego, a short dissertation on the poet and the subject of love. Brodsky's spectrum on life and art at the end of the century is as wide and varied as his talent for writing. To read these masterful essays is to experience the English language at its finest." —Raul Nino, Booklist