The Quest for Christa T. (Paperback)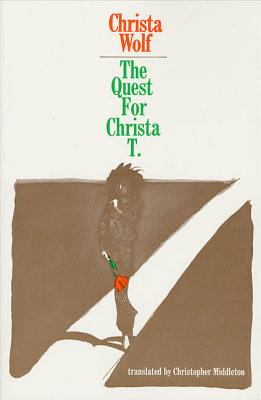 Staff Reviews
---
Bowie liked it. I can see why. It's about a woman living in communist East Berlin attempting to reconstruct the life of her dead friend via the notebooks and jottings she left behind. There is so much unsaid, so much neither the reader nor the narrator can know about this person who has passed. The descriptions of East Berlin rhyme with Trump's America, a time when we're unable to recognize our country, our friends and neighbors, our own lives. For fans of Lispector, Chris Kraus, Ferrante, and Walser.
— Landon
Description
---
When The Quest for Christa T. was first published in East Germany ten years ago, there was an immediate storm: bookshops in East Berlin were given instructions to sell it only to well-known customers professionally involved in literary matters; at the annual meeting of East German Writers Conference, Mrs Wolf's new book was condemmed. Yet the novel has nothing eplicity to do with politics.
About the Author
---
Christa Wolf (1929-2011) was one of the most celebrated German writers of the twentieth century. Wolf was a central figure in East German literature and politics, and is the author of many books, including the novels The Quest for Christa T., Patterns of Childhood, and Cassandra.

Christopher Middleton is a poet and translator of Nietzsche, Goethe, and Robert Walser's third novel, Jakob von Gunten (University of Texas Press, 1969). He is the recipient of the Schlegel-Tieck Translation Prize.
Praise For…
---
"On the surface we have merely the story of a sensitive woman as recalled by her friend. On this level Christa T. was a good citizen who did as she was told and lived a seemingly unexceptional life. But between the lines lies the real story of Christa T. -- the story of an individual crushed by the presures of uniformity. If you bear in mind it is the first novel of any consequence to emerge from Ulbricht's East Germany, then it becomes something of a literary landmark." —John Barkman, New York Post

"The contours of silence and the outline of things articulately left unsaid loom large in the muted brilliance of this novel." —Ernst Pawek, The New York Review of Books

"It is a courageous boot that breaks taboos and, as we have come to expect from Christa Wolf, it is infused with an integrity and a deep moral concern. . . " —The (London) Times Literary Supplement