Moominland Midwinter (Hardcover)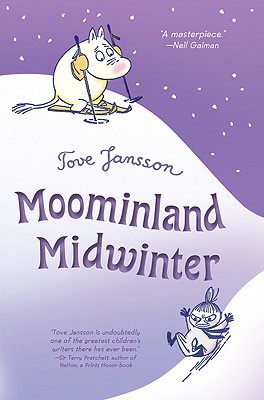 Unavailable, our apologies.
Sorry, We Can Not Obtain this Book at This Time
Staff Reviews
---
Nothing quite compares to this mid-century series about a tight-knit family of hippoppotomesque creatures and their outlandish friends who live in a Scandinavian valley. Their lives are cozily domestic, chock-full of objects like buttons and boats and "big yellow pancakes with raspberry jam", but also wild and fierce and free. Beneath it all runs a eerie current of melancholy that called to me as a child - especially in this volume, in which our hero Moomintroll alone wakes from hibernation to discover a valley that's barren and covered in snow...
— Maddie
Description
---
Everyone knows that the Moomins sleep through the winter, but this year Moomintroll has woken up in January. After his initial shock at seeing his familiar haunts under the snow, Moomintroll discovers that winter is worth waking up for after all. In fact, more creatures than he ever imagined inhabit this new world, including a wise newcomer named Too-ticky who introduces him to this most mysterious of all seasons.
About the Author
---
Tove Jansson (1914-2001) was born in Helsinki and spent much of her life in Finland. She is the author of the Moomin books, including "Comet in Moominland" and "Finn Family Moomintroll." Born into an artistic family--her father was a sculptor and her mother was a graphic designer and illustrator--Jansson studied at the University College of Arts, Crafts and Design in Stockholm, the Finnish Academy of Fine Arts, and L'Ecole des Beaux-Arts in Paris. In addition to her Moomin books, she also wrote several novels, drew comic strips and worked as a painter and illustrator. In 1966, she was awarded the Hans Christian Andersen Medal for her body of work. Jansson had a studio in Helsinki but spent most of her time at her home on a small island called Klovharu."
Praise For…
---
"The Moomin books make for both splendid bedtime read-alouds and solitary savoring." —Wall Street Journal
"This book is a marvelous new look at a time of year when many of us are huddling inside, trying to stay warm, and a good reminder during a hot summer of what to look forward to in a few short months."    —The Green Man Review
"Timeless . . . Perfect for reading aloud . . . The magical adventures of the innocent Moomin family have the whimsical, surrealistic quality of Frank Baum's Oz books."   — Chicago Parent
"The Moomins originated in Finland, found their way to England, and have now, happily, crossed the Atlantic. One couldn't ask for more engaging citizens."   —The Christian Science Monitor
"The books . . . belong on the shelf next to classics like A Wrinkle in Time and The Phantom Tollbooth."   —Entertainment Weekly
"A lost treasure now rediscovered . . . A surrealist masterpiece."   —Neil Gaiman
"Jansson was a genius of a very subtle kind. These simple stories resonate with profound and complex emotions that are like nothing else in literature for children or adults: intensely Nordic, and completely universal."   —Philip Pullman
"Tove Jansson is undoubtedly one of the greatest children's writers there has ever been. She has the extraordinary gift of writing books that are very clearly for children, but can also be enjoyed when the child, like me, is over sixty and can still find new pleasures with the insights that come from adulthood."   —Sir Terry Pratchett
"Clever, gentle, witty, and completely engrossing."   —Jeff Smith, author of Bone
"[Tove Jansson] is a master."  —The Times Literary Supplement (London)
"The most original works for children to be published since the Pooh books, and possibly, since Alice."   —Saturday Review
"You will declare yourself a citizen of Moominvalley and call the stories your own—the Moomin world is that compelling."   —Riverbank Review
"It's not just Tove Jansson's wonderfully strange fairytale world that so appeals but also her beautiful line work and exquisite sense of design."  —Lauren Child
"[Jansson was] a whiz of tomfoolery who was also a profound guide to the human heart."  —Shelley Jackson, LA Weekly