Heavenly Questions: Poems (Hardcover)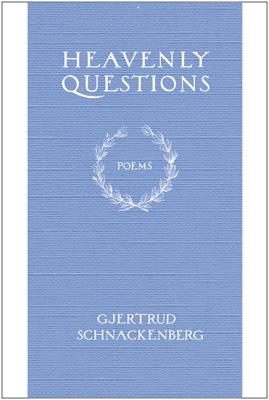 $23.00
Email or call for price.
Description
---
Heavenly Questions, the first new collection of poems from Gjertrud Schnackenberg since her critically acclaimed The Throne of Labdacus, finds her at the height of her talents and showcases her continued growth as an artist. In six long poems, Schnackenberg's rhyme-rich blank verse, with its densely packed images, shifts effortlessly between the lyric and the epic, setting passion to a verbal music that is recognizably her own.
An exceptional and moving new collection from one of the most talented American poets of our time, Heavenly Questions is a work of intellectual, aesthetic, and technical innovation—and, more than that, a deeply compassionate and strikingly personal work.
About the Author
---
Gjertrud Schnackenberg was born in Tacoma, Washington, in 1953. The Throne of Labdacus (FSG, 2000) received the Los Angeles Times Book Prize in Poetry. She graduated from Mount Holyoke, and was awarded an honorary doctorate from that college in 1985. She has also received the Lavan Younger Poets Award (judged by Robert Fitzgerald) from the Academy of American Poets, and the Rome Prize in Literature from the American Academy and Institute of Arts and Letters.
Praise For…
---
"What a superb poet she is, and what a range of original sensibility, what private music, in the less well-worn emotions." —Nadine Gordimer on Gjertrud Schnackenberg
"This sometimes heartbreaking, always ornate sixth collection will please [Schnackenberg's] admirers … as before, Schnackenberg bestows her gifts of diction on scientific wonderments, on the horrors of history, and on the religious and philosophical texts of the past." —Publisher's Weekly
"Gjertrud Schnackenberg's new book, Heavenly Questions ... is perhaps the most powerful elegy written in English by a poet in any recent memory, and it is a triumphant consummation of Schnackenberg's own work. In it, a poet of wide learning and traditional poetic form has been hurt into outraged and incandescent song." —Karl Kirchwey, Slate
"Schnackenberg is best known for her stunning command of prosody. She is the most accomplished master of blank verse on the planet… Her dream songs remain both impossibly intimate and formally perfect: a double monument to love and to grief. Here is the most powerful love poetry of our time" —Eliza Griswold, The American Prospect
"Schnackenberg has written nothing less than a Miltonic book-length poem on eternity, infinity, and the meaning of life, and it is ... unarid and fleet. She mills her ponderous themes, by imaginative inhabitation and force of skill ... into fairy dust. I wonder who else would try such a thing as Heavenly Questions, and how far back you would have to go to find someone who could even fail at it." —D. H. Tracy, Poetry
"Heavenly Questions ... is a fascinating invocation of the wonders of eternity, and a human relationship to eternal questions. Schnackenberg pursues these wonders on all fronts--in mathematical iterations as well as references to science and philosophy, and it is this integrated approach, along with the sheer density of her imagery, that characterizes her compelling new poetry collection." —Aisha K. Down, The Harvard Crimson
"Gjertrud Schnackenberg is a pillar of American poetry." —Susan Salter Reynolds, The Los Angeles Times
"Gjertrud Schackenberg in Heavenly Questions . . . offer[s] poems in a meticulous blank verse that gives them the stately power and authority of Chapman's Homer and its legions of descendants . . . I don't think I've ever felt so strongly a loss experienced only through verse . . . It is Schnackenberg's great achievement to have revealed how, in the dark of the hospital night, the small and large, the personal and the impersonal, the purposeful and the pointless, all collapse into one, the universe, still inexplicable, still impersonal, reduced for that moment to the force of a simple, urgent desire ... All we have is love; when love is all we have, we create memorials to help us hold onto that love ... Heavenly Questions is that memorial, and, as such, the answer to its own questions." —Levi Stahl, The Quarterly Conversation
"There is no one in her generation to equal Schnackenberg's control of the blank-verse line, nor to match her technical abilities ... In Heavenly Questions, the sounds are what she herself describes as 'bindings falling from the swaddled drum.' The transfixed speech is Una's from Spenser's Faerie Queen." —Cynthia Zarin, The Yale Review
"[Heavenly Questions] tell[s] a story of epic scale … This magic comes to us in a great upheaval of brilliant prosodic rule-breaking and reinvention … Reading this book is like reading the ocean, its swells and furrows, its secrets fleetingly revealed and then blown away in gusts of foam and spray or folded back into nothing but water. Heavenly Questions demands that we come face to face with matters of mortal importance, and it does so in a wildly original music that is passionate, transporting, and heart-rending." —Judges' Citation, Griffin Poetry Prize 2011 International Shortlist
"In Heavenly Questions Schnackenberg's poems achieve a new degree of human intimacy as a result of their staggering encounter with death... It's as though the renewing faith in the power of beauty that has always animated Schnackenberg's work were itself mortally wounded; as we watch it struggle to regain its footing, we gaze more and more deeply into its striving heart." —Ann Kjellberg, Little Star
"Gjertrud Schnackenberg's new book, Heavenly Questions . . . invokes the power of numbers, to build a memorial . . . in scrolling pentameter; but Schnackenberg approaches form as a generative as much as a limiting force. The momentum of her lines suggests grief's endless reprisals and perpetuations, and the rhythms of an infinite, recombinant universe. In six long poems, which constitute a single integrated work, Heavenly Questions guides us through the transformations of bereavement. The effect is immersive and utterly compelling . . . As the soft graphite shears off, and life and love break midway through, so the book ends: 'Here the god of writers broke his pen.' The ambition and ingenuity of Heavenly Questions reminds us of what it is possible for elegiac poetry to achieve, particularly given a longer form; but the courage at its core, the tremendous, vulnerable dignity, the refusal to seek easy consolations, or depict such a grief in familiar terms, are what hold the most power to enchant and impress, and make these poems resonate long after the book has been closed." —Frances Leviston, The Guardian