Unseen Hand: Poems (Hardcover)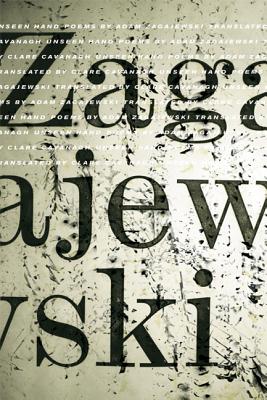 $23.00
Email or call for price.
Description
---
One of the most gifted poets of our time, Adam Zagajewski is a contemporary classic. Few writers in poetry or prose have attained the lucid intelligence and limpid economy of style that are the trademarks of his work. His wry humor, gentle skepticism, and perpetual sense of history's dark possibilities have earned him a devoted international following. This collection, gracefully translated by Clare Cavanagh, finds the poet returning to the themes that have defined his career—moving meditations on place, language, and history. Unseen Hand is a luminous meeting of art and everyday life.
About the Author
---
Adam Zagajewski was born in Lvov in 1945. His books include Tremor; Canvas; Mysticism for Beginners; Without End; Solidarity, Solitude; Two Cities; Another Beauty; and A Defense of Ardor—all published by FSG. He lives in Paris and Houston.
Praise For…
---
"Not so long ago we had two incredible voices--Neruda and Milosz. Now we have Adam Zagajewski, who also speaks passionately from both the historical and the personal perspective, in poems reduced to a clean, lyrical clarity. In one poet's opinion (mine), he is now our greatest and truest representative, the most pertinent, impressive, meaningful poet of our time." —Mary Oliver
"Zagajewski's poems pull us from whatever routine threatens to dull our senses, from whatever might lull us into mere existence." —Philip Boehm, The New York Times Book Review
"As the title suggests, Polish poet Adam Zagajewski's new book Unseen Hand is a book of hidden things. By this we mean the poems move in and out of revealing and concealing, each poem an elegant exploration of history, both personal and global . . . Zagajewski's poetry reflects on the unseen impressions we leave on each other and the physical world around us, the indirect intimacy of human interaction . . . Thoughtful and meditative . . . We as readers . . . experience the steady unveiling of the unseen and the unspoken through Zagajewski's language." —Kelly Forsythe, Newcity Lit
"In his new book, Zagajewski stakes out, as firmly as ever, the position of poetry in a world where language's metaphysical registers have been largely usurped by the forces of political oppression . . . Yet these poems oppose grand pronouncements . . . we see Zagajewski's continual evolution toward elegy and memory, but the role of poetry is still both vital and deeply limited . . . these new poems, pitched at a register slightly lower than that of praise, offer a sort of quiet surprise--occasionally even delight--born out of wise and hard-earned skepticism." —Publisher's Weekly
"The poems of Unseen Hand, translated by the admirably consistent Clare Cavanagh, move through the various locales of Zagajewski's life; from his Polish upbringing in Lvov and the provincial garrison town of Gliwice . . . to various stints in Krakow, Paris, and Chicago . . . Zagajewski is especially perceptive of the ways the past is channeled through the present -- his 'now' tends to carry the authority of an 'always' . . . Zagajewski's skill with subtle tensions doesn't stifle his playful nature . . . As always with Zagajewski, we are ultimately responsible for the way we experience our own lives, how we value the inheritance of the past, and how open we are to those 'moments without an hour.'" —Michael Brodeur, The Boston Globe
"Zagajewski . . . blends past and present, mundane and mysterious in all his word. His new collection has a conversational, unadorned style reminiscent of William Carlos Williams . . . The best poems establish a contradiction that is resolved at the end by paradox . . . melancholy yet hopeful." —Diane Scharper, Library Journal
"Adam Zagajewski's radiant poetry is a gift. It offers a chance to ponder the vagaries of human experience in the company of a uniquely sensitive, patient, hospitable companion, who maintains a capacity for childlike wonder in concert with maturity. His work is also an example of what art can achieve now, in defiance of theorists who insist that poetry is no longer an authentic possibility, that we are trapped in our own small, stifling self." —Ian Marcus Corbin, The Weekly Standard